Omegamax Cycle
Talk

0
9,870pages on
this wiki
 

Omegamax Cycle
Number:
6
Pilot/Summoner:
Omega SPD Ranger, SPD Red Ranger
Season:
S.P.D.
First Appearance:
The Messenger (episode)
Last Appearance:
{{{lastepisode}}}
Number of Episode
Appearances:
{{{numberofepisodes}}}
Full list of appearances
Length:
27.4 m
Width:
41.9 m
Height:
47.7 m
Weight:
5000 tons
Speed:
250 km/h
Not to be confused with the Omega Megazord, a Megazord used in Power Rangers Lightspeed Rescue.
The Omegamax Cycle is a futuristic Zord piloted by the Omega Ranger; The Omegamax Cycle has the ability to travel through time and fire lazers. The Omegamax Cycle is a gigantic motorcycle that can be ridden by the Delta Squad Megazord, and combine to form the Deltamax Megazord.
It's possible for the Red S.P.D Ranger to summon and pilot the Omegamax Cycle if necessary; The Omegamax Cycle was piloted by Jack Landors, at first he found it difficult to control due to its speed. 
Omegamax Megazord
The
Omegamax Cycle
has the ability to transform into the exceptionally fast and powerful 
Omegamax Megazord
. It has blade weapons mounted on its wrists, with which it can literally slice through evil. The hands on its chest can reflect attacks. The Omegamax Megazord also has the ability to fly.The Zord's finishing move is called the Omegamax Spinout; The Omegamax Megazord charges towards it's target then flies into the air, spinns downwards using its two powerful wrist baldes to slah through enemies.
Deltamax Megazord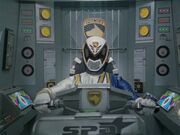 See also: Super Dekaranger Robo
The Omegamax Cycle can merge with the Delta Squad Megazord to form the Deltamax Megazord. It has hyper sonic speed and can destroy evil robots with its Hyper Speed Punch Attack.
See Also