OO Batton (オロオロバットン, OroOro Batton, 40)
Character History
A Bowzock that was sent to distract the Carrangers by pretending to be their friend, ultimately becoming friends with Minoru Uesugi and joining in his celebrations of all things Osaka. However, his true intention was to lure the Carrangers and their mech into a pit-trap set up by the Bowzock under the city to trap them and make them easily vulnerable for attack. Fits the theme of a vampire bat. He wielded a staff in battle with a hammer on one end and a drill on the other. After parts of both VRV Robo and RV Robo were damaged by Batton (VRV Robo's torso, and RV Robo's limbs), Minoru ultimately mixed and matched the remaining mechs into Scramble Intersection Robo, which ultimately destroyed Batton after not heeding to Minoru's final pleas of friendship.
Personality
to be added
Modus and Arsenal
Notes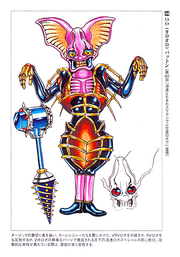 Portrayal
Behind the Scenes
See Also
References
Ad blocker interference detected!
Wikia is a free-to-use site that makes money from advertising. We have a modified experience for viewers using ad blockers

Wikia is not accessible if you've made further modifications. Remove the custom ad blocker rule(s) and the page will load as expected.