Norishiron Extra (ノリシロン増刊, Norishiron Zōkan) is a special-edition red Norishiron from the same magazine as the original, it is sent by Exhaus to assist SS Sutatanzo and BaraMobile in taking down the Carranger and Ohranger during the climax of Gekisou Sentai Carranger vs. Ohranger. It is easily handled by Signalman and Sirender.
Overview
to be added
History
Notes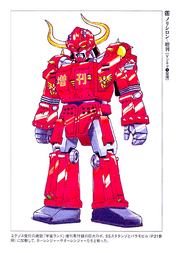 References
Ad blocker interference detected!
Wikia is a free-to-use site that makes money from advertising. We have a modified experience for viewers using ad blockers

Wikia is not accessible if you've made further modifications. Remove the custom ad blocker rule(s) and the page will load as expected.