Nobuharu Udo
Talk

0
8,828pages on
this wiki

"The Armored Brave, Kyoryu Blue!"
Nobuharu Udo (有働 ノブハル, Udō Nobuharu) is Kyoryu Blue (キョウリュウブルー, Kyōryū Burū) of the Kyoryugers.
Biography
Before Kenichi Died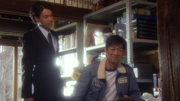 Nobuharu always used to cheer up
Kenichi
, the husband of his sister, during hard times. Kenichi was the only one who liked his jokes. Once he died, Nobuharu took his old job and started caring for his sister and niece.
Brave 8: Where Are We? Break Through the Labyrinth
32 years old. A hardworking Jack-of-All-Trades. The others call him "Nossan" (ノッさん) due to his age. While on a trip, Nobuharu defeated ZyuDenRyu Stegotchi in an icy field, and gained its' power. A powerful brawler who declares himself the "Armored Hero" (鎧の勇者, Yoroi no Yūsha). He lives with his widowed younger sister and his niece.[1]
Super Hero Taisen Z
The Kyoryugers joined the action as the current Sentai team in Kamen Rider × Super Sentai × Space Sheriff: Super Hero Taisen Z.
Super Hero Taisen Otsu
to be added Kamen Rider × Super Sentai × Space Sheriff: Super Hero Taisen Otsu: Heroo! Answers
Kyoryu Blue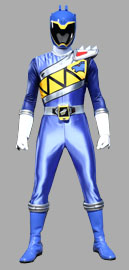 Arsenal
Gabrevolver: Transformation device and gun-weapon
GabriCalibur: Main sword weapon that can combine with the Gabrevolver
Mobuckle: Beast Battery storing belt and comunicator
Beast Battery #3 - Stegotchi: Main battery-like device that is the source of Nobuharu's powers.
Stego Shield
Mecha
ZyuDenRyu #3: Stegotchi
Personality
Very clumsy, shy, and hilarious. Nobuharu works as an electronical serviceman. Actually, he loves to try to act cool, but always ruins it (just like he failed to spin his Gaburevolver). Even though he looks like that, he is a person with incredible strength, even in his civilian form.
Behind the scenes
Portrayal
Nobuharu Udo is portrayed by Yamato Kinjo (金城 大和, Kinjō Yamato?).[2][3][4][5] As Kyoryu Blue, his suit actor is Masashi Takada (高田 将司, Takada Masashi?).
Sentai Notes
He is the first Sentai Ranger to have a Stegosaurus motif.

Because of this, he is the only Blue Sentai Ranger in a dinosaur-themed Sentai to not have a Triceratops motif.

Nobuharu is now the oldest offical Ranger to be part of an active Sentai group, who is in his early 30's.

He mirrors Burai, who is also in his 30s, when he became the sixth member of the Zyurangers.
References