| | |
| --- | --- |
| | This article is about a/an series entry (the 26th) in the Super Sentai series. |
Ninpu Sentai Hurricaneger (忍風戦隊ハリケンジャー, Ninpū Sentai Harikenjā), translated into English as Enduring Wind Squadron Hurricaneger, was Toei Company Limited's 26th production of the Super Sentai television series. Its footage was used in the Americanized Power Rangers Ninja Storm.
Plot
In the Hayate's Way Ninja Academy, three of its pupils aren't exactly fitting in. But because their Sensei believes them to have potential, he regularly spends the morning personally subjecting them to rigorous training. While the other students are having their graduation ceremony, a group of evil space ninja known as the Jakanja infiltrated the school, killing most of the students. The school's Sensei, Mugensai, turned himself into a hamster to evade his pursuers. The trio was then taken to a secret base to become the legendary Hurricanegers to fight the Jakanja. But they also had to deal with the two ninja brothers of the Ikazuchi's Way Ninja Academy for a while because the Gouraigers were searching for the Evil Force that Jakanja was searching for. But once the Gouraigers abandoned their mad quest, they joined forces with the Hurricanegers.
Characters
Hurricanegers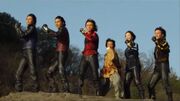 Gouraigers
Shurikenger
Allies
Other Villains
Karakuri Balls
Arsenal
Transformation Devices
Multi-Use Devices
Sidearms
Weapons
Special Weapons
Vehicles
Mecha
Karakuri Giants/Shinobi Machines System
Legend:◆ piloted mecha, ❖ aux mecha, ➲ carrier mecha, ◇ combo-assist mecha
Karakuri Balls
Episodes
The episodes this season are called "scrolls". Every title is a combination of two nouns with the character "to" which represents the word "and", thus making every episode have two subjects of note.
It should be mention that the second subject in the episode title has a tendency to be written in katakana, even if there is existing kanji.
Movies
Songs
Opening theme
Hurricaneger Sanjou! (

ハリケンジャー参上!

Harikenjā Sanjō!

, Here Come the Hurricanegers!)

Lyrics: Neko Oikawa (

及川 眠子

Oikawa Neko

)
Composition & Arrangement: Takeshi Ike (

池 毅

Ike Takeshi

)
Artist: Hideaki Takatori
Ending theme
Ima, Kaze no Naka de (

いま,風のなかで

Now, Inside the Wind)

Lyrics & Composition: Hideaki Takatori
Arrangement: Hiromasa Kagoshima
Artist: Hironobu Kageyama
Insert theme
Cast
Voice actors
Guest actors
Movie & VS Series Guest actors
Suit actors
Stage Shows
Notes
The South Korean Power Rangers dub skipped ahead from Power Rangers Wild Force to Abaranger, omitting both Hurricaneger and Power Rangers Ninja Storm.
This is the first season since Gorenger whose name ends with "-ger" but not "-ranger" as a shortcut to the word "ranger".
The series has similarities with Choujuu Sentai Liveman, Kousoku Sentai Turboranger, and Ninja Sentai Kakuranger.
This series was originally called Dainin Sentai Ninjaman (Great Ninja Squadron Ninjaman).[1]
This was the first series since Choujin Sentai Jetman to have a female ranger who's primary costume color was neither pink, yellow nor white, followed by Mahou Sentai Magiranger and Doubutsu Sentai Zyuohger.

But Magiranger had female Pink and White Ranger and Zyuoher a female White replacing Pink; all 3 series also have a male yellow that [at least for two of the three] was adapted Male; the others being Ninninger to Ninja Steel, A-Squad Yellow, and Kakuranger to Alien Rangers

This is also the first season since Kyōryū Sentai Zyuranger to feature a Green Ranger as a Sixth Ranger.

And so far only one since, teams since had Green in the core team (w/ or w/o a Black Ranger or replaced by Black)

This is also first series since Kousoku Sentai Turboranger to have female human villain as wanderer.

Both series has similarities with School Students.
Both series have the Red Female Villains in human forms.

In the ending credits of Power Rangers Ninja Storm, Hurricaneger is credited as "Hurricane Rangers" where Ninja Storm is being adapted from.
In Kaizoku Sentai Gokaiger, Ranger Keys from Ninpu Sentai Hurricaneger are unique in that they are identified as 3 seperate Sentai groups: Hurricaneger, Gouraiger and Shurikenger. The only other season to be closely similar to this case is Engine Sentai Go-Onger with 2 seperate groups of Ranger Keys.
This series has similaites to Kaman Rider Ryuiki, which came out in the same year and would later be adapted in 2009 as Kaman Rider Dragon Knight:

Both feature the respective group in factions, something niether had done before 
Both have the factions fighting each other (in Hurricanger, because of the villians; Ryuki because of a common goal)
Both of their American Counterparts were adapted, but not by Saban
Both have Motorcycles 

Ninja Storm used this more than Hurricanger though

Both have tradtional motifs mixed with metal and technology
Both have have a gimmick (Kakurai Balls and discs; cards)
Both feature insect themed members
Both feature abnormal teams 

Their are 13 Ryuki Riders
the color designation of Hurricanger is Red/Blue (F)/Yellow/Crimson/Navy/Green

Both feature character in the same or similar shade of color
Their sucsessors resemle the first adapted Sentai and Rider

Abaranger and Zyuranger have dinosaurs motifs
555 and Black RX have insect themed heroes that have Black colored suits
See also
Hexagon - the original idea for the Power Rangers adaptation of Hurricaneger.

Kaitou Sentai Lupinranger vs Keisatsu Sentai Patranger-a sentai that has similarites to Hurricanger and Hexagon

Power Rangers Ninja Storm-Power Rangers Counterpart  
External links
References