Ninja Sentai Kakuranger
Talk

2
9,860pages on
this wiki
| | |
| --- | --- |
| | This article is about a/an series entry (the 18th) in the Super Sentai series. |
Ninja Sentai Kakuranger (忍者戦隊カクレンジャー, Ninja Sentai Kakurenjā?, translated into English as Ninja Squadron Kakuranger) was Toei Company Limited's eighteenth production of the Super Sentai television series.
Certain action footage from this series was used in the third season of Mighty Morphin Power Rangers and the brief Mighty Morphin Alien Rangers mini-series.
Plot
400 years ago, the ninja and the Youkai had a great war. The legendary Sarutobi Sasuke and other four ninja sealed the Youkai Commander Nurarihyon and all his Youkai energies away in a cave protected by the "Seal Door". In the present, the only surviving Youkai, Kappa, tricks Sarutobi Sasuke and Kirigakure Saizo's descendants, Sasuke and Saizou, into releasing the Youkai by opening the "Seal Door". Now these two, joined by three other descendants of the great ninja, become the Kakurangers to fight the Youkai with the aid of the Three God Generals.
Characters
Kakurangers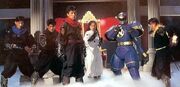 "We'll cut down evil without people knowing!!! Ninja Sentai Kakuranger, Arrives!!!"
".....Judgment!!!"
Arsenal
Vehicles
Three God Generals
Allies
"In the name of Heaven, we will punish you!"
The Youkai Army Corps
Super Sentai World
Episodes
Specials
Cast
Suit actors
Trivia