The movie version of Ninja Sentai Kakuranger, directed by Shōhei Tōjō and written by Noboru Sugimura, premiered in Japan on April 16, 1994, at Toei Super Hero Fair '94. It was originally shown as part of a triple feature alongside Kamen Rider J
and the feature film version of Blue SWAT
. The villains in the movie consisted of the One-Eyed Brothers and Ōnyūdō.
Synopsis
When a Youkai targets a house to add to his display of a shrunken city, the Kakurangers attempt to protect it and the two kids who live there.
Plot
to be added
Characters
Kakurangers
Youkai
Continuity placement
The film was released Between Episodes 9 & 10, but actually takes place between 8 & 9.
DVD/Blu-ray releases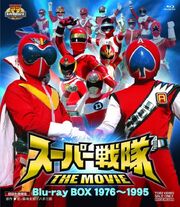 Ninja Sentai Kakuranger: The Movie is included on Super Sentai: The Movie Blu-ray Box 1976-1995, a blu-ray compilation box set of 15 theatrical Super Sentai movies.[2]

References
Ad blocker interference detected!
Wikia is a free-to-use site that makes money from advertising. We have a modified experience for viewers using ad blockers

Wikia is not accessible if you've made further modifications. Remove the custom ad blocker rule(s) and the page will load as expected.