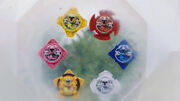 The Ninja Power Stars are throwing stars used by the Ninja Steel Rangers to morph into Power Rangers. Additional stars were reforged in the Ninja Nexus Prism in order to unlock their attacks and summon and operate their Zords.
List of Stars
The Ninja Nexus Star is the power star which is the source of the six Ninja Power Stars. In Return of the Prism, it was destroyed by Dane Romero to stop Galvanax from stealing it power. It then somehow managed to get back into the Ninja Nexus Prism, and reformed into the six main Ninja Power Stars.

Element Star - An elemental Power Star marked with the kanji for "five" (

五

Go

?

), this Power Star is capable of launching Ninjutsu attacks based on five elements marked with their respective kanji by turning the blade to the appropriate setting of choice before being inserted into the Ninja Star Blade. Five copies of this Star were created, with the first shown being created from a throwing star made of the Ninja Steel and thrown into the Ninja Nexus Prism.Live and Learn
Ninja Fusion Zord Star[1]
The Zord Stars are used by the Ninja Steel Rangers to summon their Zords. They were created when shurikens made of Ninja Steel were fed back into the Ninja Nexus Prism after the Rangers were shown a vision of their Zords. The first five shurikens were spit back out by the Prism looking similar to the Ninja Power Stars except for the robotic face of the Megazord on the center.
The Legendary Power Stars are a special type of Power Stars associated with the Ninja Steel Rangers' Power Ranger predecessors. They have a similar appearance to the Morphing Stars, only with the faces of the represented past Rangers (particularly Red for the Red Stars) or the core members of the represented team for the Team Stars as opposed to the Ninja Steel Rangers, making them somewhat similar to the Legendary Dino Chargers. They also sport the symbols of that team, such as the Ninja Storm Power Star's Wind Ninja Academy emblem.
"Legendary Red Star!"

―announcement in the DX Ninja Battle Morpher
All Legendary Red Stars feature the teams' Red Ranger, their emblem, and the kanji for "red" (赤, Aka?).
"Legendary Team Star!"

―announcement in the DX Ninja Battle Morpher
All Legendary Team Stars feature the core team, their emblem, and a kanji representing the team's motif.
Notes
See Also
References
Ad blocker interference detected!
Wikia is a free-to-use site that makes money from advertising. We have a modified experience for viewers using ad blockers

Wikia is not accessible if you've made further modifications. Remove the custom ad blocker rule(s) and the page will load as expected.