Seikai
Talk

0
8,974pages on
this wiki

"NinjaYellow~Seikai!"
Seikai (セイカイ, Seikai) is NinjaYellow (ニンジャイエロー, NinjaIerō) of the Kakurangers. He is 24 years old and a descendant of Seikai Miyoshi.
Biography
Kakuranger
Seikai likes video games. He refuses to battle at the beginning but when he saw Rokurokubi steal children, he decides to battle. He is driven by desire for food, sleep, and women. He is indecisive, but has unusual strength inheirited from his ancestor. He corresponds to Zhu Bajie.
Super Sentai World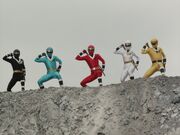 When Emperor Daidas and his army invaded Earth, Seikai, alongside his team, joined with the four Sentai that came before them, the Dairangers, Zyurangers, Jetmen, and Fivemen, to defeat him. Super Sentai World
Gaoranger vs. Super Sentai
NinjaYellow is among the Sentai warriors seen in clips when Gouki (GingaBlue) lectured Soutarou Ushigome (GaoBlack) about the past Sentai strong warriors, humbly claiming to not be nearly as strong as they are. Hyakujuu Sentai Gaoranger vs. Super Sentai
Gokaiger
Years later, Seikai fought alongside not only his own team, but every single Sentai ranger in existance, against the Empire of Zangyack when it attacked the Earth in the Great Legend War. After fighting against hundreds of Gormin and their Zgormin commanders. Kaijou noticed the fleet moving towards them, he gathered all the Rangers together and gave them the order to sacrifice their powers to wipe out the first invasion's armada. The NinjaYellow powers are later used by Luka Millfy via the Ranger Keys.
After the Zangyack's final defeat, Marvelous returned the Ranger keys to their original owners. It is assumed Seikai, Tsuruhime and their teammates have their powers once again and will work alongside Ninjaman to cut down evil in the shadows once more
Super Hero Taisen
Seikai, alongside his team (bar Ninjaman), among the majority of the Super Sentai heroes, was caught up in the "Super Hero Taisen" incident which eventually resulted in the Super Sentai teams and Kamen Riders joining forces to defeat both Dai-Zangyack and Dai-Shocker. Kamen Rider × Super Sentai: Super Hero Taisen
NinjaYellow
Sanshinshou
Arsenal
Attacks
Hidden Style: Triple Slash
Echo Art
Leaf Hiding Art
Ranger Key

The NinjaYellow Ranger Key (ニンジャイエローレンジャーキー, NinjaIerō Renjā Kī?) is Seikai's personal Ranger Key and what became of his powers after he along with the rest of the 34 Super Sentai sacrificed their powers to end the Great Legend War.
This key along with the majority of the Ranger Keys were collected by the Red Pirates and later used by the Gokaigers. The NinjaYellow Ranger Key was mainly used by Luka Millfy (Gokai Yellow), who used it to fight as NinjaYellow.
After Zangyack were finally defeated, the Gokaigers gave the Ranger Keys back to their rightful owners. It is presumed that Seikai received his key and became NinjaYellow once more.
Gallery
Behind the scenes
Portrayal
Seikai is portrayed by Shu Kawai (河合 秀, Kawai Shū?). As NinjaYellow, his suit actor was Hirofumi Ishigaki.
See Also