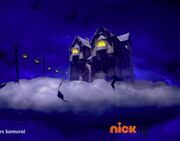 The Nighlok Heaven is the home of all deceased Nighloks and Moogers as seen in Power Rangers Samurai.
Description
First introduced in Party Monsters, it is shown to be a peaceful place, thus contradicting the human concept of Heaven. Dead Nighloks like to tell their adventures with the Samurai Rangers as seen at their Halloween Party.
Like the Shadow World from Power Rangers Lightspeed Rescue and the Abyss of Evil from Power Rangers Ninja Storm, the Nighlok Heaven is one of the death realms for monsters from previous Power Ranger series/seasons.
Nighloks in Nighlok Heaven
Among the Nighloks seen in the Nighlok Heaven are: