"NeziYellow!"

―NeziYellow's roll call
NeziYellow (ネジイエロー, Nejiierō, 38-43, 47 & 48) is a member of the Nejirangers. Armed with NeziSling (ネジスリング, Nejisuringu). The cunning member, rival of NeziPink. Her true form is a spider monster called NeziSophia (ネジソフィア, Nejisofia) and could also assume a human form. During the final battle she had her free will removed, and was only obsessed with killing the Megaranger. Killed by Super Galaxy Mega, Mega Voyager and Mega Winger, later killed for good after being turned into a DataCard.
Video Game appearances
Super Sentai Battle Base
NeziYellow is among the vast pantheon of villains/Rangers which are available in the mobile game Super Sentai Battle Base.
Notes
Conception
NeziYellow was designed by character designer Osamu Abe.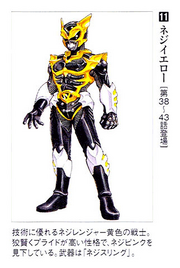 Appearances
See Also
Ad blocker interference detected!
Wikia is a free-to-use site that makes money from advertising. We have a modified experience for viewers using ad blockers

Wikia is not accessible if you've made further modifications. Remove the custom ad blocker rule(s) and the page will load as expected.