"NeziBlack!"

―NeziBlack's roll call
NeziBlack (ネジブラック, Nejiburakku?, 38-43, 47 & 48): The fierce second-in-command of the Nezirangers. Armed with NeziRod (ネジロッド, Nejiroddo?). His True form is a rock monster called NeziVulgar (ネジヴァルガー, Nejivarugā?) and could also assume a human form. Killed by Super Galaxy Mega, Mega Voyager and Mega Winger, later killed for good after being turned into a DataCard.
Video Game appearances
Super Sentai Battle Base
NeziBlack is among the vast pantheon of villains/Rangers which are available in the mobile game Super Sentai Battle Base.
Notes
Conception
NeziBlack was designed by character designer Osamu Abe.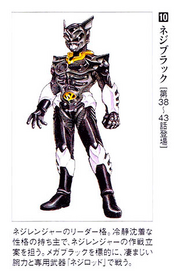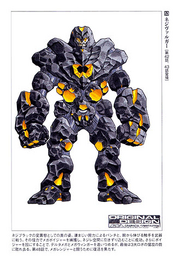 See also