Ad blocker interference detected!
Wikia is a free-to-use site that makes money from advertising. We have a modified experience for viewers using ad blockers

Wikia is not accessible if you've made further modifications. Remove the custom ad blocker rule(s) and the page will load as expected.
Neo-Crisis
(ネオ・クライシス, Neo Kuraishisu, 48-50):
Gien
's final robot, created to battle the
V-Rex
. Powered by
Lambda 2000
, it was also programmed to synchronize with its' creator's movements. Once fully functional and enlarged, Gien piloted Neo-Crisis to began his reign of destruction.
TimeFire
arrived, with V-Rex, and the two giants engaged in a battle, which also ensured the ravaging of the, via 2001, century. After defeating V-Rex, Gien decided to find something else for Neo-Crisis to destroy, while the Time-Pulses worsened, until the robot started to overheat. Gien fell back to make repairs and to plan the actual date of when the third of the world was to be destroyed. During its second attack, Neo-Crisis knocked around V-Rex until TimeJet Gamma arrived and disabled Neo-Crisis for a moment.
TimeRobo
Alpha held off NeoCrisis as TimeRed converted V-Rex's Lambda 2000 to
Zeta 3
. Once TimeRobo Beta put Neo-Crisis in position, V-Rex unleashed Max Burning to destroy it for good, destroying Gien right along with it. Its suit actor was Masaru_Ōbayashi.
Notes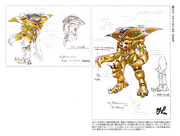 See Also