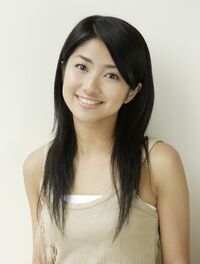 Nana Yanagisawa (柳沢 なな, Yanagisawa Nana) is a Japanese actress and fashion model. She had a guest appearance as Phantom Thief Selene in Task 13 of GoGo Sentai Boukenger. She is known for her role in Kamen Rider Kiva as Megumi Aso, one of the lead heroines. She also starred in Kamen Rider Kiva: King of the Castle in the Demon World as this role.
External links
Ad blocker interference detected!
Wikia is a free-to-use site that makes money from advertising. We have a modified experience for viewers using ad blockers

Wikia is not accessible if you've made further modifications. Remove the custom ad blocker rule(s) and the page will load as expected.