description to be added
Character History
Bowzock's best graffiti artist, he was hired to use Inventor Grotch's fattening spray to make objects explode, after becoming too fat. Though told to stay put while Grotch gets him Imo-youkan, Nerenko goes on a spraying rampage after seeing graffiti that brings his style to shame. He nearly kills four of the Carrangers with the fattening spray, until Blue Racer washes it off his teammates. In battle, he can also blast lasers from the face on his helmet, which is called using his Nerenko Beam attack. Destroyed by RV Robo.
Personality
to be added
Modus and Arsenal
Notes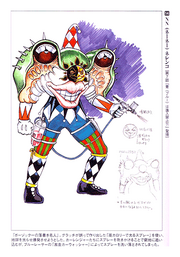 Portrayal
Behind the Scenes
His motif is the one of a clown.
See Also
References
Ad blocker interference detected!
Wikia is a free-to-use site that makes money from advertising. We have a modified experience for viewers using ad blockers

Wikia is not accessible if you've made further modifications. Remove the custom ad blocker rule(s) and the page will load as expected.