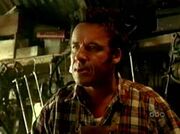 Mr. McAllistair is the father of Flynn McAllistair. He is played by Jason Hoyte.
Mr. McAllistair never understood his son growing up, because Flynn was always obsessed with comic books and helping people, which his practical father could never understand. He would often tell Flynn that superheroes didn't exist, until the day the two of them arrived in Corinth. When Flynn took the wheel of a bus to go rescue stranded civilians, his father decided that his son was the exactly the sort of hero he'd never believed in. He set up a mechanic shop in Corinth, and Flynn later found him there asleep with a scrapbook full of reports about his son's exploits. After the fall of Venjix, the Mr. McAllistair and his son opened a new shop to build new computers for the world.
Ad blocker interference detected!
Wikia is a free-to-use site that makes money from advertising. We have a modified experience for viewers using ad blockers

Wikia is not accessible if you've made further modifications. Remove the custom ad blocker rule(s) and the page will load as expected.