Moon Palace
Talk

0
9,800pages on
this wiki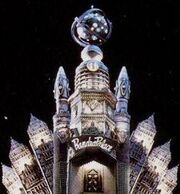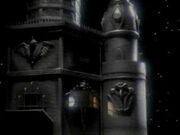 The Moon Palace is Rita Repulsa's and Lord Zedd's base on the Moon.
The Moon Palace is a large structure believed to have been constructed to protect the Zeo Crystal as it was built directly above where it was kept. It laid dormant for the 10,000 years Rita was trapped in her Space Dumpster and found and set up residence when she was released. Rita set up a throne room and laboratories within several connecting rooms that had an impressive view of Earth which Rita used an Extreme Long Range telescope to spy on. The palace also had several doorways to other dimensions, which Rita and Goldar used regularly to trap humans and Rangers in.
After a year of failures, Lord Zedd returned and found the palace. He modified the outer appearance of the palace with images of himself and his culture and set up a new throne room higher in the towers. Zedd used this as his base while he attempted to conquer Earth.
Rita used her knowledge of the palace to regain access to it as Zedd slept in order to secretly create a love potion and marry him.
The palace fell under attack by King Mondo and his forces and was damaged beyond repair, which didn't stop Zedd and Rita from trying to sell it. The ruins of the palace remain hidden on the moon, although in Turbo: A Power Rangers Movie, Zedd and Rita are seen in a room that could be in the palace.
See also