Mochibetori (モチベトリ, Mochibetori, 37): Mochibetori is an Ayakashi armed with the Shirahani Sukibanomata (白埴鋤歯叉, White-Clay Spade Teeth Fork). His attack is the Mochi Pellet (もちつぶて, Mochi Tsubute), which allows him to bind his opponents. He is the basis of the Betobeto-san (べとべとさん) of Japanese myth.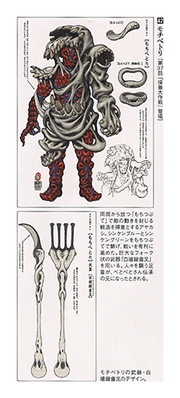 See also
Ad blocker interference detected!
Wikia is a free-to-use site that makes money from advertising. We have a modified experience for viewers using ad blockers

Wikia is not accessible if you've made further modifications. Remove the custom ad blocker rule(s) and the page will load as expected.