Mighty Morphin Power Rangers 2016 Annual
Talk

0
Share
Mighty Morphin Power Rangers 2016 Annual
Editor
Dafna Pleban
Cover artist:
Goni Montes
Writer:
Kyle Higgins, Ross Thibodeaux, Marguerite Bennett, Trey Moore, James Kochalka, Jorge Corona
Penciller:
Rod Reis, Rob Guillory, Huang Danlan, Terry Moore, James Kochalka, Jorge Corona
Inker:
Rod Reis, Rob Guillory, Huang Danlan, Terry Moore, James Kochalka, Jorge Corona
Colorist:
Rod Reis, Taylor Wells, Hi-Fi, Gabriel Cassata
Letterer:
Ed Dukeshire, Jim Campbell
Adapted from:
Mighty Morphin Power Rangers
Release date:
24 August 2016
Publisher:
Boom! Studios
Publication Order
The Mighty Morphin Power Rangers 2016 Annual was the first annual in Boom! Studios' run of Power Rangers comic books. It features six stories: A Week in the Life..., Unlockly Heroes, A Spot of Trouble, Only the Strong, It's Putty Time, and What Makes a Ranger.
Synopsis
to be added
Plot
to be added
Errors
Notes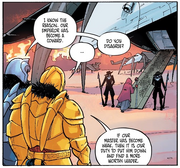 Two Kuros (mooks from Ressha Sentai ToQger) are guarding Lord Zedd's ship.

Ironically enough, said season featured main antagonist whose name was Z, which also can be readed as "Zed".
References
Ad blocker interference detected!
Wikia is a free-to-use site that makes money from advertising. We have a modified experience for viewers using ad blockers

Wikia is not accessible if you've made further modifications. Remove the custom ad blocker rule(s) and the page will load as expected.