Mighty Morphin Power Rangers
Talk

6
11,190pages on
this wiki
For the movie version of this team, see Mighty Morphin Power Rangers (1995 movie team).
The Mighty Morphin Power Rangers, also known as the Power Rangers are "teenagers with attitude" that Zordon recruited to battle Rita Repulsa using the power that they wield with their Power Morphers and Power Coins. They developed a strong sense of unity, but whenever one had to move on with his or her life, Zordon appointed new ones to take over.
Rangers
Team History
Mighty Morphin Power Rangers
When Rita Repulsa and her minions were freed from their imprisonment on the moon, Zordon took action to prevent her from taking over the Earth unchallenged. Instructing Alpha 5 to recruit "five teenagers with attitude," he chose Jason, Billy, Trini, Kimberly, and Zack to receive the five Power Coins in his possession and become Power Rangers. These five rangers thwarted many of Rita's plots, but nearly met defeat when Rita used a sixth Power Coin to transform Tommy into her own evil Green Ranger. Tommy succeeded in cutting off communications with Zordon and trapping the Rangers' Zords before unleashing his own Dragonzord. However, Alpha was able to restore the Command Center's link with Zordon, who helped bring the Zords back, allowing the Rangers to defeat Dragonzord. Once Jason destroyed Tommy's Sword of Darkness, Tommy was freed from Rita's control, and immediately became a new member of the team.
Rita soon set out to take revenge on her former minion, using the Green Candle in an attempt to drain away Tommy's powers. The Rangers managed to stop her by having Tommy give his Power Coin to Jason, preventing Rita from draining way his powers. However, Tommy later reassumed the green powers after Rita managed to steal the ohter five Power Coins. As a result, his powers remained weak for some time, which would make him a target when Lord Zedd usurped control of Rita's forces. Eventually Tommy lost the Green Ranger powers, while the other Rangers upgraded their Dino Zords into the Thunder Zords. The continual threat of Lord Zedd, however, prompted Zordon and Alpha to create a new set of White Ranger powers, which were conferred upon Tommy due to his faithfulness in serving as the Green Ranger. He also became leader of the team, replacing Jason, who along with Zack and Trini later passed their powers on to new Rangers. This process would be accomplished using the Sword of Light, thus conferring Red, Black, and Yellow Ranger powers upon Rocky DeSantos, Adam Park, and Aisha Campbell.
Eventually, all six Rangers would lose their powers after Rito Revolto arrived and helped Zedd and Rita-the pair having married some time previously-destroy the Thunder Zords. As such, they were forced to seek out Ninjor, the creator of the Power Coins, in the Desert of Despair. Eventually, they convinced Ninjor of their sincerity, and he granted them new Ninja powers to replace their old ones. The Rangers were thus able to continue their battles against Rita and Zedd's forces for some time, even after Rita's father Master Vile arrived to bolster their forces. Another change to the team came when Kimberly gave up her powers to Katherine Hillard, another reformed minion of Rita's. However, as a result of Vile's tampering with time, the Power Coins were destroyed, leaving the Rangers without their Ninja powers. They were thus forced to utilize the Zeo Crystal to obtain new powers, becoming the Zeo Rangers. However, as there were only five pieces of the crystal, only five rangers could be empowered by them. Aisha's place on the team was taken by Tanya Sloan, while Billy stepped down to serve in a support role.
In Space, Wild Force, and Operation Overdrive
When most of the Zeo Rangers became Turbo Rangers who eventually gave way to the Space Rangers, the few holdouts from the original team ceased to be active Rangers. However, original Red Ranger Jason and Black Ranger Adam would later return utilizing their Power Coins to take on their old personas and help new groups of Rangers. Adam would be first, taking up his damaged Morpher to help Carlos Vallerte-who replaced him as the Green Turbo Ranger-in dealing with emotional issues surrounding his battles with Lizwizard. Adam's actions were dangerous, as using a damaged Morpher with a destroyed Power Coin had the potential to cause him serious harm. However, he made it through with momentary pain, and managed to help Carlos find his self-confidence again.
Jason later took up his Red Ranger mantle again as part of a team of Veteran Red Rangers formed in "Forever Red." This group consisting of Jason, Tommy, and every Red Ranger up to Cole Evans-minus Rocky, whose Red Ranger powers had been returned to Jason by unknown means-challenged the Machine Empire remnants under General Venjix. The group succeeded in defeating the general's forces, and Cole later destroyed Serpentera after Venjix succeeded in launching it. Some time later, Adam would lead a team of Retro Rangers-the other members being Bridge Carson, Xander Bly, Kira Ford, and Tori Hanson-who filled in for the Overdrive Rangers after Thrax, son of Rita and Zedd, sabotaged the Morphing Grid. On this occasion, Adam's powers-as well as those of Kira and Tori-were restored to him temporarily by the Sentinel Knight, who also summoned the five of them to help.
Super Megaforce
The Mighty Morphin Power Rangers returned as part of the army of Legendary Rangers that helped the Mega Rangers defeat the Armada once and for all, fighting in a huge battle against hundreds of X Borgs and dozens of Bruisers. Legendary Battle
Arsenal
Season One
Power Lance
This is the personal weapon of the Blue Ranger. A double-bladed lance that is close in height to the Blue Ranger itself, it can split into a pair of trident-like sai blades, the size of escrima sticks. When used as a part of the Power Blaster, it forms two of the five laser barrels. Billy calls his weapon the Mighty Maces. Different Drum It can generate electricity.
Power Daggers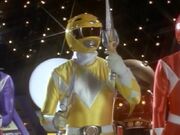 This is the personal weapon of the Yellow Ranger and her successor. A twin pair of yellow short-bladed daggers, they are effective as both melee weapons and projectile weapons. When used as part of the Power Blaster, it forms two of the five laser barrels. Trini also calls her weapons the Dino Daggers.Different Drum The daggers can generate an energy double slash.
Power Bow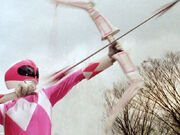 This is the personal weapon of the Pink Ranger though her successor was never shown using it. It fires projectile pink arrows at enemies, something Kimberly often did from midair. The arrows themselves appeared to be explosive on impact, shown when Kimberly fought Spit Flower.The Spit Flower When used as part of the power blaster, it crosses over the top of the Power Axe, forming a bar that holds the Power Daggers and Power Lance. It can be used as a melee weapon in the video game adaptation, similar to the Ptera Arrow weapon on which it is based, although Kimberly used her bow in this way as well on occasion. Kimberly also calls her weapon the Battle Bow.Different Drum It can transform into a harp as well.
Power Blaster
A powerful assemblage of all 5 of the core Rangers' Weapons: Red Power Sword, Black Power Axe, Blue Power Lance, Yellow Power Daggers, and Pink Power Bow. Used as a finisher on small monsters. Sometimes it wouldn't manage to destroy them before Rita or Zedd could make the monster grow.
It resembles a crossbow, and its two central pieces were the Power Bow and the Power Axe. The Power Blaster was formed by placing the Power Bow horizontally within the locking mechanism of the Power Axe in Cannon Mode, with the Power Dagger's and separated Power Lance Mace's connected to the length of the Bow, with their handles facing forward, acting as additional barrels to the cannon. The Power Sword, the key to the Blaster, was locked in on top of the cannon, similar to where an arrow would be placed in a crossbow. The Power Blaster was used by the first team of Rangers extensively and only once by the second team Scavenger Hunt before switching to the Power Cannon.
Dragon Dagger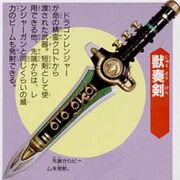 The Dragon Dagger is the personal weapon of the Green Ranger. It is used to summon and control the Dragonzord by playing it like a flute; anyone who has the Dragon Dagger can summon Dragonzord from the Ocean, such as Goldar. It could project green concussive blasts of energy, and would often be coupled with the Red Ranger's Power Sword for even stronger blasts. Due to this complementary temperament, when Jason was given the remnants of Tommy's Green Ranger Powers he used the Dragon Dagger extensively, until the latter returned. Jason was the only other Power Ranger trusted with the Dragon Dagger. It would later be utilized by Tom Oliver, Tommy's Green Ranger clone, as well as by a dream version of the Green Ranger in Power Rangers Dino Thunder.
The Dagger was eventually put into storage in the Command Centre along with The Dragon Power until it was stolen by Billy while under the control of Rita and given to Goldar. After Tommy's powers were restored by Zordon he later reclaimed the dagger and kept it as his primary weapon until his powers were fully drained by Lord Zedd and coin and dagger disintegrated.
After the Dragon Power coin and powers were recreated by the Wizard the Dagger was recreated as well and used as Tom Oliver's primary weapon to face Tommy. After Tom Oliver was defeated he kept the Dragon Power Coin and the Dagger still existed.
After Tommy's powers were restored to battle the Armada he once again had possession of the Dagger.
Power-Ups
Dragon Shield
Tommy was the first to use this as it came with his Green Ranger powers, though he could temporarily transfer the shield to other Rangers when needed.[1] After Tommy lost his powers as the Green Ranger, he gave his coin to Jason, which gave him more power than before using the Dragon Shield, and enabled the Rangers to control the Dragonzord using the Dragon Dagger weapon. Tommy then got his powers back a short time later.
As the primary user, Tommy has two golden forearm bands in addition to the shield, as well as the Dragon Dagger. When he temporarily transfers the shield to other Rangers, they gain the shield, and he keeps the arm bands and Dragon Dagger. When Jason temporarily took the Green Ranger powers and called for them, he received the shield, both arm bands, the Dragon Dagger, and a color change of his morpher from its normal gray hue to a gold tint.
It was once again given to Tommy when he returned to the position of the Green Ranger. It was also used by Zack in the Season 1 finale episode, "An Oyster Stew" in which he also received the arm bands. After Tommy lost his Green Ranger powers, he obtained a similar shield when he received the White Ranger powers. It was last seen in the Dino Thunder episode "Fighting Spirit".
During the filming of additional shots for the American Mighty Morphin Power Rangers series, the original shield prop wasn't transferred overseas with the rest of the costume. A poor replica was utilized, making new and original sentai footage easily distinguishable (see Notes for more info).
Other Weapons
Anti-Sonic Foam Gun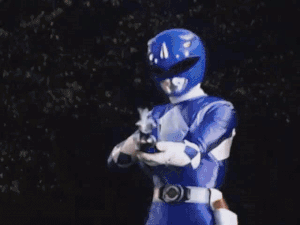 Alpha 5 created a blue device bearing the Triceratops symbol for Billy. Grumble Bee. Working as a kind of exterminator's gun, it fired foam all over Grumble Bee disrupting his sonic attacks and immobilizing him long enough to be defeated. Only used once by the Blue Ranger, it was never seen again. Before teleporting it to Billy, the blue prints for it could be seen in a book on the Command Center's control panel.
Vehicles
RadBug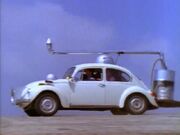 The RadBug ("Remote Activated Drivingzord for Basic Ultra Geomorphology"[2])was a Volkswagen Beetle capable of flight, built by Billy Cranston. It was used primarily during the time the Rangers were battling the Green Ranger Green with Evil, although it was built before then. It was used as Green Ranger had damaged their teleportation systems along with other Command Center functions. It can go from 0 to 3,000 mph in less than three seconds. Big Sisters They used it after the Rangers had discovered that the teleportation and communication systems in the Command Center were temporarily down. The Rangers also used it to find Rita's minions, who had snatched a little girl named Maria and forced her to release the Power Eggs.
Battle Bikes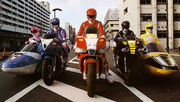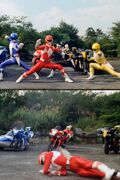 The Battle Bikes[3]could be seen in the background while the four Rangers minus Kimberly fought Samurai Fan Man. Calamity Kimberly Since the Rangers were not shown teleporting after they left the Command Center, it can be assumed they drove the Bikes to their location. It would be the only appearance of the Bikes so they were never shown in use on screen. They were based off the Tyrannosaurus, Triceratops and Mastodon Zords for the Red, Blue and Black Rangers respectively. The Blue and Black Battle Bikes had side cars for the Pink and Yellow Rangers.

==Inventory==</noinclude>
Morphers
Multi-Use Devices
Communication Devices
Sidearms
Individual Weapons and Team Blaster
Power Blaster/Power Weapons

Power Sword
Power Axe
Power Lance
Power Daggers
Power Bow

Dragon Dagger
Power-Ups
Other Weapons
Vehicles
Season Two
Morphers
Multi-Use Devices
Communication Devices
Sidearms
Individual Weapons and Team Blaster
Power Weapons

Power Sword
Power Axe
Power Lance
Power Daggers
Power Bow

Dragon Dagger
Team Cannon
Power-Ups
Other Weapons
Extinguisher
Ribbon Weapon
Mirror Shield
Sword of Power
Mega Heater
Sword of Light
Season Three
Morphers
Multi-Use Devices
Communication Devices
Sidearms
Weapons
Power-Ups
Vehicles
Zords
Dinozords and the Power Zord Battle System
Legend:◆ piloted zord, ➲ carrier zord
Thunderzords and the Power Zord Battle System
Legend:◆-piloted zord, ➲ carrier zord
Ninjazords System
Legend:◆ piloted zord, ➲ carrier zord
Shogunzords System
Legend:◆ piloted zord, ➲ carrier zord,  shared zord
Independent
Members (Mighty Morphin)
Members (Ninja)
Legendary Ranger Keys
Super Megaforce/Mighty Morphin Legendary Ranger Mode
Mighty Morphin Power Ranger Keys
Notes
There are a total of seven rangers (by color) with only a maximum of six appearing at one time. However, the 3-parter "Return of the Green Ranger" allows there to be seven ranger colors in one show, although they don't all appear onscreen at the same time.
The Mighty Morphin Power Rangers are the first team to be produced by Saban, chronologically though, they are not the very first rangers ever. The Ancient Samurai Rangers have existed for centuries.
These were the first named rangers and as such are known typically by their color designation only. The rangers that followed had monikers associated to their team's name or the name of the show.
Mighty Morphin Power Rangers introduces the format of the first five Rangers beigin Red, Black, Blue, Yellow and Pink. This Format would be used by Space Rangers, Overdrive Rangers and  Mega Rangers
According to the "Reality Check" PSA of Mighty Morphin Power Rangers, Amy Jo Johnson, David Yost, and both their respective characters are accomplished martial artists and gymnasts.
Six video games based on this team were produced, one for Sega Genesis, one for Sega CD, one for Sega Game Gear, two for Super Nintendo Entertainment System (Mighty Morphin Power Rangers and Mighty Morphin Power Rangers Fighting Edition), and one for Game Boy.
Billy, the original Blue Ranger, has the distinction of being the only Ranger to hold the same position for the longest time (3 years, 1993-1996) without ever switching colors, a record yet to be surpassed. Similarly, he is the only original Power Ranger to appear in every episode of Mighty Morphin Power Rangers and remain there from the start to the end of the MMPR generation.
In the comics, the Ninja forms are considered the base morphed state.
While the Rangers are composed of two females, with the rest being male, the original Japanese show and succeeding iterations saw all seven suits be worn by male characters, as the Yellow Ranger was a male character in the original series and the Pink Ranger's powerset was used by a male character in the meta-series' anniversary.
See Also
Zyurangers - Super Sentai counterpart (Ranger suits, Arsenals & Season 1 Megazords)
Dairangers - Super Sentai counterpart (White Ranger costume & Season 2 Megazords)
Kakurangers - Super Sentai counterpart (Season 3 Megazords)
Cite error: <ref> tags exist, but no <references/> tag was found
Pages in category "Mighty Morphin Power Rangers"
The following 14 pages are in this category, out of 14 total.