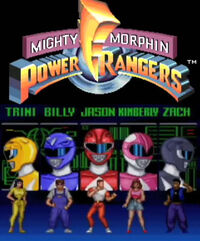 The first
Power Rangers
game for the Super Nintendo. It was released in September 1994 in North America, January 1995 in Europe, and November 1995 in Japan. Featuring the orginal five
Mighty Morphin' Power Rangers
, the game is a classic "beat 'em up" where you must fight your way to victory.
Plot
It was a normal day in the city of Angel Grove when the Rangers witnessed an attack on the city and saw Rita's face in the dark sky. She had sent down a bunch of monsters and putties to defeat them. It is up to the Power Rangers to stop them and save the day. There are five different areas that you must put your Rangers through as they fight putties and avoid obstacles to reach the end. Half through the area the boss is seen and your Ranger must morph. Then the Ranger must survive stronger putties and more hazardous obstacles. Finally at the end of the level your Ranger must battle a monster/boss. There two more areas, those are zord battles. Also all areas including the last two have a code allowing you to skip straight to that level. Once all seven areas are completed the Rangers go on a joyride to Ernie's Juice Bar.
Characters
Rangers
At the beginning of each area you must choose one of five rangers.
Bosses
Notes
The game has no overall narrative and thus no plot to it, presented as a series of disconnected adventures.
The game is set during the first season of Mighty Morphin' Power Rangers, although at the time of its release, the show was already halfway into Season 2.

Tommy, the Green Ranger, does not appear in the game (although he appears in the game's commercials via Zyuranger stock footage). By the time of the game's release, he had already returned as the White Ranger.
The game was released after Jason, Zack and Trini's departure.

Billy and Kimberly would later return in the game's sequel with new sprites.
Every morphed Ranger sprite, including Trini and Kimberly's, appears as a recolor of the Red Ranger. These sprites would be reused for the game's sequel.
None of the game's stages appeared in the show at all.