Mighty Morphin Power Rangers (Season 1)
Talk

8
8,834pages on
this wiki
| | |
| --- | --- |
| | This article is about the first season in the Power Rangers franchise. |
Mighty Morphin Power Rangers is a live-action television series. The first season first aired on Fox Kids on August 28, 1993, and ended on May 23, 1994. Although it was a children's series, it became known as one of the cultural icons representing the 1990s.
On January 2, 2010 a reversion of the season with a new logo, comic book-inspired graphics, and alternative special effects began airing on ABC Kids, but stopped airing on August 28 of that year. The reversion was at one point considered the 18th official season of Power Rangers. However, when Power Rangers Samurai aired, material began referring to Samurai as the 18th.
Synopsis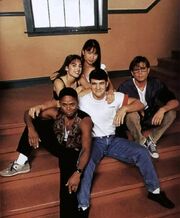 Long ago, the ancient wizard Zordon did battle with the evil witch Rita Repulsa. After long years of battle, he managed to defeat her by using five magic coins. As punishment for her loss, she was sealed in a canister on the Earth's moon. However, before being sealed away, Rita trapped Zordon in a time warp, preventing him from participating in further battle against her.
10,000 years later, Rita and her minions escaped their prison thanks to two unsuspecting astronauts, and set out to conquer Earth. Zordon, desperate to stop her, had his assistant Alpha 5 recruit five "teenagers with attitude" to do battle against her. They were granted the powers of prehistoric animals, and became Power Rangers.
After several battles, Rita captures a newcomer to create an evil Power Ranger using a magic coin of her own, infused with the power of the Dragon. This Green Ranger caused major damage to her foes, until he was freed from her control by the other Rangers. He joined the Power Rangers in their battle against Rita.
Soon though, Rita created a green candle to diminish Tommy of his Green Ranger powers and return them to her. Having no choice, Tommy gave his powers to Jason to prevent Rita from gaining them.
Characters
Rangers
Main article:Mighty Morphin Power Rangers (team)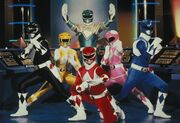 Allies
Civilians
Villains
Arsenal
Morphers
Multi-Use Devices
Communication Devices
Sidearms
Individual Weapons and Team Blaster
Power Blaster/Power Weapons

Power Sword
Power Axe
Power Lance
Power Daggers
Power Bow

Dragon Dagger
Power-Ups
Other Weapons
Vehicles
Zords
Dinozords and the Power Zord Battle System
Legend:◆ piloted zord, ➲ carrier zord
Ultrazord ◆◆◆◆◆◆➲

Mega Dragonzord ◆◆◆◆◆◆

Megazord (Dinozords) ◆◆◆◆◆

Tyrannosaurus Dinozord ◆
Mastodon Dinozord ◆
Triceratops Dinozord ◆
Saber-Toothed Tiger Dinozord ◆
Pterodactyl Dinozord ◆

Titanus the Carrierzord ➲
Evil Zords
Episodes
VHS/DVD Releases
VHS Release
DVD Release
Notes
See Also