Metallosaurus
Talk

0
8,994pages on
this wiki
The
Metallosaurus
(or
Metallasaurus
) was produced by General Havoc for his sister Divatox.
The Metallosaurus is a dinosaur robot, resembling Godzilla, that General Havoc used against the Turbo Rangers. Metallosaurus did a counterspin and broke the Turbo Megazord's sword, slashed at it with its claws, and bit into the megazord's shoulder with its fangs. Metallosaurus turned around and slapped the Turbo Megazord twice with its tail. Metallosaurus spun around a third time and wrapped its tail around the Megazord's arms and chest. After General Havoc sent electricity through the tail into the Megazord and fried it, Metallosaurus flew high into the atmosphere, carrying the coiled robot away with it.
The Metallosaurus was eventually destroyed by the Turbo Rangers' newly acquired Rescuezords. Later, despite its improvements, the Metallosaurus was destroyed again by the Rescue Megazord.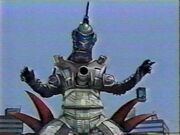 See also
Notes