A professional assassin. Don Dolnero promised 25 million to him if he killed the Timerangers. Possessing Herculean strength, he carries a broadsword and shoots lasers from his eyes in battle. Brought in by TimeRobo Alpha.
Notes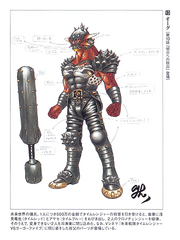 His name is a pun on the word "ogre".
Also, his motif is also the one of an Oni
Depression Seals Location: Right Arm
See also
Bats - His identical uncle.
Ad blocker interference detected!
Wikia is a free-to-use site that makes money from advertising. We have a modified experience for viewers using ad blockers

Wikia is not accessible if you've made further modifications. Remove the custom ad blocker rule(s) and the page will load as expected.