Mecha Crisis (メカ・クライシス, Meka Kuraishisu, 46-47): Created by Gien and powered by Zeta-3, Crisis was sent to destroy the city. TimeFire and the Timerangers battled it until it enlarged itself, with V-Rex and the Time Flyer fighting it. Once hearing he can destroy it, TimeFire and V-Rex use Max Burning to scrap the robot. Its suit actor was Masaru_Ōbayashi.
Depression Seals Location: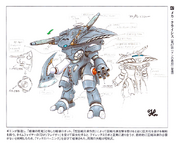 See Also
Ad blocker interference detected!
Wikia is a free-to-use site that makes money from advertising. We have a modified experience for viewers using ad blockers

Wikia is not accessible if you've made further modifications. Remove the custom ad blocker rule(s) and the page will load as expected.