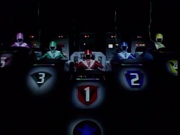 Max Victory Robo Sigma Project (マックスビクトリーロボシグマプロジェクト, Makkusu Bikutorī Robo Shiguma Purojekuto) is Mondo Tatsumi's final mecha creation which resembles the Max Victory Robo but is colored black. This mecha is powered by mental energy and has a sword that resembles the Victory Robo's Braver Sword but it's hilt has a reddish coloring rather than a bluish color. Used in the Final Episode by the GoGoFive to stop the Grand Witch Grandiene-possessed Dark King Zylpheeza and Salamandes Dragon, after the original Max Victory Robo was destroyed, and both the Victory Mars and Grand Liner were disabled. Armed with the knowledge that although they had supposedly lost their father, but now know that their mother is still alive, the GoGoFive used this energy to power up the sword which allowed them to emerge victorious over Grandiene. In the course of the finale the Max Victory Robo Sigma is never disassembled into component mecha, though the toy incarnation was fully transformable to the six components.
See Also
Ad blocker interference detected!
Wikia is a free-to-use site that makes money from advertising. We have a modified experience for viewers using ad blockers

Wikia is not accessible if you've made further modifications. Remove the custom ad blocker rule(s) and the page will load as expected.