Maskmen
Talk

0
9,800pages on
this wiki
Category page | Redirected from Maskmen
The Maskmen are a Super Sentai team composed of six people originally recruited by Commander Sanjuurou Sugata to fight the Underground Empire Tube.
Maskmen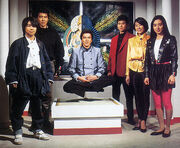 Maskmen
Team History
Maskman
to be added
Turboranger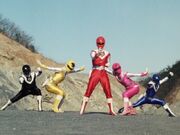 Maskman joined up with Battle Fever, Denzimen, Sun Vulcan, Goggle V, Dynamen, Biomen, Changemen, Flashmen, and the Livemen, to stand behind the newest Sentai, the Turborangers, as they faced off against the Hundred Boma Tribes. Counting on You! Turboranger
Gokaiger
Years later, the Space Empire Zangyack invaded Earth. This threat was so great that all of the first 34 Super Sentai, including Maskman, were needed to oppose them. The 34 Sentai put up a valiant fight against the ground forces, but when the Zangyack fleet itself attacked them, Akarenger told everyone to combine their powers and save the Earth. This destroyed the Zangyack fleet and resulted in the loss of their powers, which resurfaced as Ranger Keys, that were dispersed throughout the universe.
The keys were collected by AkaRed, and later utilized by the 35th Super Sentai, the Gokaigers, a group of five people from different planets who came to Earth in search of the Greatest Treasure in the Universe. Ep. 1: The Space Pirates Appear The greater power of Maskman was initially taken by Basco ta Jolokia, but was granted to the Gokaigers by Akira after Basco's death. Ep. 49: The Greatest Treasure in the Universe After the Gokaigers finally defeated Zangyack, they returned the Ranger Keys before they left Earth to find the second Greatest Treasure in the Universe. It is presumbed the Maskmen got their powers back as with all the other Super Sentai. Final Ep.: Farewell Space Pirates
Super Hero Taisen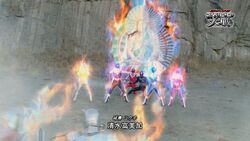 The Maskmen were among the "All Sentai" force during the "Super Hero Taisen" incident which resulted in the Super Sentai teams and Kamen Riders joining forces to defeat both Dai-Zangyack and Dai-Shocker. At one point, the Maskmen joined forces with Kamen Rider Black, as they protected Earth in the same year. They launched an attack against the revived Shadow Moon. Kamen Rider × Super Sentai: Super Hero Taisen
Arsenal
Transformation Devices
Sidearms
Individual Weapons
Team Cannons
Vehicles
Mecha
Legend:◆ piloted mecha, ✶ team-piloted mecha, ➲ carrier mecha
Heroes
Ranger Keys
The Hikari Sentai Maskman Ranger Keys (光戦隊マスクマンレンジャーキー, Hikari Sentai Masukuman Renjā Kī?) are what became of the Maskmen's powers after they along with the rest of the 34 Super Sentai sacrificed their powers to end the Great Legend War.
Any of these keys allow a Gokaiger to assume the form of any of the Maskmen or charge GokaiOh with Aura Power to initiate the Gokai Aura Galaxy attack. The Greater Power of this Sentai Group was stolen by Basco, but was later retrieved when Basco was defeated after he infused the Greater Power into the Maskman Keys.
Gokaiger/Maskman Gokai Change
Maskman Keys
Trivia
Pages in category "Maskmen"