Masked Monsters
Talk

0
9,860pages on
this wiki
The Masked Monsters are the monsters of the Black Cross Army in Himitsu Sentai Goranger.
Independent
Gold Mask (1): One of the first Black Crusade Monsters to go up against the Gorangers. He and a group of Zolders hijacked a school bus and were planning to harm the kids on the bus. However the Gorangers saved the kids inside the bus before that could happen. He wears a gold mask with a red evil smile face on it. Along with a black cape and a gold body suit. His main weapon is a scythe, which he can toss like a boomerang to attack his enemies.
Samurai Mask (1, 2): The second of the five original Black Cross Monsters. Samurai Mask resembles a typical samurai from the fedual era of Japan. Complete with Samurai mask, helmet, & battle armor. Samurai mask stole a new bio-engineering tool created by scientists for humanitarian purposes and used it as the Black Cross Army's latest weapon of mass destruction. The weapon is capable of creating algae or miscellaneous forms of plant matter on any media (even humans). The Black Cross Army planned to use this weapon to cover Japanese highways with plant matter, which would cause its structure to erode and cause chaotic car accidents. In order to mass produce this weapon Samurai Mask took the lead doctor hostage and threatened to kidnap his son if he didn't comply to their demands. Samurai Mask is proficient in hand-hand sword combat and archery. He is also able to use a jutsu that transfers his life-force into a spirit, allowing him to resist the Goranger Storm attack. He meets his demise when the Black Cross missile he possesses is blown up by a demolition ammo armed Bluecherry.
Bronze Mask (1, 3): He was the third Black Cross Crusade Monster to go up against the Gorangers. Wears nothing but bronze armor. He bribed Daita with a bowl of curry rice in an attempt to regain an object the Gorangers stole from a Black Cross Army base. He ends up double crossing Daita, threatening to blow up a child inside a pressure sealed bomb. Bronze mask wields both a staff and a dart blower in battle. The staff shoots sparks that travel long distances. For some reason the dart blower also doubles as a flute which Bronze Mask uses to announce his presence. Apart from these weapons Bronze Mask is also capable of spontaneously creating a defensive shield on his elbow and can turn into a bronze Japanese bell that is completely impenetrable to all forms of damage (excluding the Goranger Storm attack which was used to destroy his bell armor in mid-air).
Jade Mask (1, 4): He was the fourth Black Cross Crusade to go up against the Gorangers. Wears a multi-color jade mask and poncho. Takes over a famous bacteriological institution and disguises himself as the lead biologist. Here, the Black Cross Army will develop a corrosive breed of bacteria that will be filled in hot air balloon and then unleashed upon the Japanese populace upon it exploding (due to intense air pressure). Peggy Matsuyama investigates the place in the guise of a freelancing reporter (she is captured along with the real lead biologist). Jade Mask has no special powers and is armed with a thick calico pole for combat usage. Destroyed by the Goranger Storm as he attempts to escape in another Black Cross Army hot air balloon.
Poison Gas Mask (1, 4, 5): The last of the original five Black Crusade Monsters. Hated by a vengeful Asuka Kenji for the death of his comrades. Poison Gas Mask's current objective is to steal precious metals/minerals from EAGLE caravans so as to maintain his geothermal powered poison gas factory. The gases will eventually be unleashed throughout all of Tokyo. The murder of these EAGLE caravans will also prevent his whereabouts from being discovered. In addition to this goal, Poison Gas Mask also boasts that he will personally vanquish all the Gorangers. Dressed in a black gown he attempts to locate the Goranger headquarters, attracting the attention of Asuka. Asuka and Poison Gas Mask duel with the latter winning. He decides to use Asuka as bait for the other four Gorangers. Poison Gas Mask can spray fumes of green colored poison gas from the nozzle located on his face. He also has poison filled side-armed missiles that violently explode upon impact. With his golden cape, Poison Gas Mask can shroud himself and teleport out of harm's way. Poison Gas Mask also wields a military dagger for hand-hand combat. Thanks to a special precious metal powered device inserted into his head, he is virtually immortal. Mido Ranger exploits this as his weakness throwing his Midomerang into the side of Poison Gas Mask's head to destroy the device. Left vulnerable, Poison Gas Mask is destroyed by the Goranger Storm along with his factory.
Metal Hoop Mask (6): A Black Crusade monster who is made up of stacked metal hoops.
Crescent Moon Mask (7): Wears a red crescent moon mask and black body suit. His main weapon is a crescent moon staff that can turn a human into a werewolf.
Poison Fang Mask (7, 8)
Witch Mask (9): The main weapon is a magic staff that shoots fire and can be used to fly with.
Wing Mask (10)
Boat Ear Mask (11)
Silver Heat Mask (12): His head resembles that of a common house fly.
Horn Mask (13)
Skull Mask (14): The last of the Independent Black Cross Monsters.
Sunring Mask's Army
Rainbow Mask (15):
Mirror Mask (15, 16):
Black Hair Mask
(16, 17):
Cyclops Mask (18)
Sword Mask (19)
Iron Mask Temujin's Army
Cannonball Mask (21)
Gear Mask (21, 22)
Wire Mask (22, 23):
Razor Mask (23, 24):
Eigh-Eyed Mask (24, 25):
Blue Muscle Mask (26):

Iron Nail Mask (27):
Iron Comb Mask (28):
Door Mask (29): His head is a steel box with a door secured with a lock in front. He's able to put objects inside his hollow head.
Mine Mask
(30): He specializes in sea mines for both land and water. His main weapon is a mine mace and can shoot bullets from within his mask's silos.
Iron Tube Mask (31): The first Black Crusade Monster to not be easily defeated by a normal Hurricane Ball.
Large Hatchet Mask (32):
Iron Princess Mask (33): Attempted to frame the Gorangers by robbing jewelry stores and have a handful of Zolders portray as one off the Gorangers.
Blushing Mask (34):
Steel Mask (35):
Warship Mask (36):
Cyborg Q (36): Resembling a normal woman named Aya-chan. Ki Ranger found her jumping off of cliff and nearly drown in the ocean. He saved her life, upon bringing her to shore. She was in fact a cyborg working for the Black Cross. Her only use of weapon was a dagger and is able to grow sharp metal fingernails. She ended up being destroyed by Warship Mask. She was the only Black Cross Minion to not have "mask" in her name.
Fork Mask (37):
Pirate Mask
(38): Resembles a stereotype pirate, bearing a large hook for a hand and a hat.
Rock Surface Mask (39):
Iron Basket Mask (40):
Iron Lion Mask (41): Wears a large iron mask in the shape of a lion's face. His main weapon is a spear. He was the last minion of Iron Mask Temujin's Army. Also a smoker who was briefly seen with a cigar while doing Temujin's bidding.
Volcano Mask Magman's Army
Diamond Mask (43): He was the General Magman's first minion to try to kill off the Gorangers. He has a blade on his forehead that is as sharp as a diamond and can cut through steel with it. His main weapon is a wedge spear.
Electricity Mask (44):
Sword Shark Mask (45):
Locomotive Mask (46):
Bird Talon Mask (47):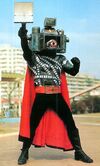 Camera Mask (48):

Horn Bone Mask (49):

Iron Trap Mask (50):

Gunman Mask (51):

Telephone Mask (52): A master assassin and master of voice mimicry able to retrieve any phone-based intel including faxes. Telephone Mask is sent after scientists who support the Gorangers with the aid of Zolders as his inside men. After killing off Wakayama, Denwa Kamen nearly poisons Shimizu when Mido Ranger intervenes. The Gorangers soon uncover his method and track the Masked Mutant down as he attempts to take out the chief officers of EAGLE. They manage to locate the Masked Mutant's base at the Eastern Recording Institute thanks to agent 0079. The Gorangers finish Telephone Mask off with the Goranger Hurricane.

Baseball Mask (53): Baseball Mask returned in Kaizoku Sentai Gokaiger The Movie: The Flying Ghost Ship. He challenges the Gokaigers, who turn into the Gorangers, to a baseball match. Considering he has a baseball for a head and his crime life is centered around baseball, he could be an evil take on the New York Mets' mascot, Mr. Met.
Golden Mask's Army
Big Ear Mask (55):
Faucet Mask (56):
Coxcomb Mask (57):
Parabolic Mask (58):
Deathbird Mask (59):

Shellfish Mask (60):
Cowshoe Mask (61):
Rib Mask (62):
Television Mask (63):

Clock Mask (64):
Fallen Leaves Mask (65):
Pinwheel Mask (66):

Can Opener Mask (67): He was the one who killed Daigorou Kumano with his can opener blade. Making Can Opener Mask the only Black Crusader to actually kill a ranger. Something the other minions never accomplished.
Injection Mask (68):
Pineapple Mask (69):
Tire Mask (70):

Piano Mask (71):
Anchor Mask (72):
Kendo Mask (73):

Glasses Mask (74):
Stove Mask (75):
Iron Spider Mask (76):
Iron Snake Mask (77):
Mammoth Mask (78):
Skate Mask (79):
Iron Tiger Mask (80):
Kettle Mask (81):
Yo-Yo Mask (82):
Tiger Mask (83): He was the last minion of Golden Mask's army. Also the last minion the Gorangers had to fight against before their fight against Golden Mask & Black Cross Furher.