Masako Yamada
Talk

0
9,852pages on
this wiki
"The enchanting mature female cosplayer, AkibaYellow!"
―The roll call of the delusion Masako as AkibaYellow.
Masako Yamada (山田 雅子, Yamada Masako?) was the mother of Yumeria Moegi/AkibaYellow. She was a famous cosplayer named Miyabi (ミヤビ, Miyabi?), with her daughter following in her footsteps. Despite her tragic death in a car accident five years before her daughter joined the Akibarangers, she returned on Yumeria's 24th birthday via a delusion created by the latter's strong thoughts for her mother on her birthdays. This manifestation of Masako aided the Akibarangers in their fight against ©Na and a revived Kabukichōmesugurohyoumonchou, and temporarily became AkibaYellow in place of her daughter to defeat the monster
AkibaYellow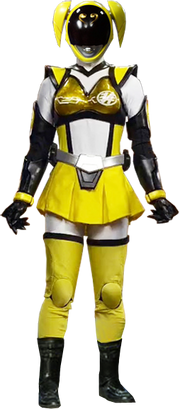 Arsenal
Behind the scenes
Portrayal
Masako Yamada was played by Rica Matsumoto (松本 梨香, Matsumoto Rika?). In Super Sentai, she is most known as the voice of Arthur G6 of Chikyuu Sentai Fiveman. She is also notable as the voice of Satoshi (Ash Ketchum) in the long-running Pokemon franchise.
As AkibaYellow, her suit actor is Kaori Ichijo (一条 かおり, Ichijō Kaori?).