"HyperForce! Red! Ready! Power Up!"

―morphing call
Marvin Shih, nicknamed Marv, is HyperForce Red.[1] He is an extra-terrestrial human from the planet Kaien.
Character History
Personality
RPG Bio: Guarded, Decisive, Caring
HyperForce Red
The HyperForce Red Ranger has control over the power of flame and utilizes it offensively to augment his attacks or shoot flame projectiles.
Arsenal
Zords
Appearances: Hyper Force Episodes 1-10, 12-25  

Behind the Scenes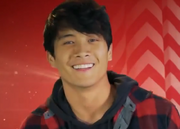 Marvin is portrayed by Peter Sudarso, better known for portraying Preston Tien, Ninja Steel Blue of Power Rangers Ninja Steel.
Notes
Marvin's character itself brings several references to Super Sentai.

His name "Marv" is a reference to Captain Marvelous/Gokai Red, who Peter based off of since it's on of his favorite Sentai Red Rangers.[2]
Furthering the reference, Jack calls Marvin "Marvelous Marvy". "Marvy" is a reference to a nickname of Captain Marvelous given by Basco, "Marvy-chan"

Marvin and Joe Shih are the first sibling Ranger characters to be played by actors who are siblings in real life.
Relations
Marv and Eddie are best friends.
(TBA)
Both Marvin and Chloe joined Time Force to find their missing family member (s)
(TBA)
Joe is Marv's older brother. Joe was missing for a long time. When Joe appeared (not just an illusion, as he was two episodes prior to his flesh and blood appearence) Marv threw a rock at him, upset about him being gone for so long. After saving Marv from the Alliance Ship Joe had to leave again but Marv was glad that his brother is alive.
References