Marah was one of Lothor's nieces by marriage and is the sister of Kapri. Like her sister, she was very ditsy and fashion conscious. She is bee-themed.
Biography
She was a decent fighter, as her powers were teleportation, energy projection, combat techniques, shielding, flight, clothing transformation, and weapon-hand extension.
Marah constantly annoyed her uncle, often failing him. Marah and Kapri constantly tried to prove to their uncle that they were evil enough to be in his army, and frequently showed up each other and the other generals in order to do so.
Marah's only real friend throughout the series was Beevil, who also resembled her, in certain ways.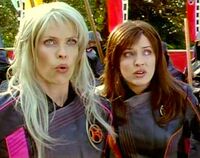 One time, she pretended to turn against Lothor, and to the side of good, and tricked Dustin Brooks into believing this too. 
Marah briefly had her own giant robot to command, which resembled a giant Beevil that was repainted pink, instead of red. It was destroyed during its one time use.
Marah, along with Kapri, joined Vexacus and plotted to overthow her uncle, pretending to be masterminds by hiding their ignorance. This ended up being a ruse and part of Lothor's plan to rid himself of his generals.
Lothor double crossed Marah and left her and Kapri on his exploding ship. She and Kapri left the ship with the Thunder Rangers and Cam. Like her sister, Marah ended up joining the Wind Ninja Acadamy. Cam was shocked when he saw her and Kapri arrive. Marah was uncomfortable with the Ninja outfits, fearing they would make her butt look big, later arguing with Kapri, when she remarked that it wasn't as big as her head. Marah wore an orange ninja suit.
Marah and Kapri were shocked when Lothor reemerged, especially with the Wind Ninja's on his side. After Lothor captured the ninja students, Marah and Kapri agreed to rejoin his army. The girls later outsmarted Lothor and helped the Rangers free the ninja students.
Pink Wind Ranger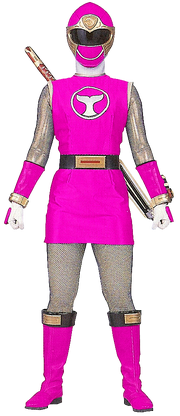 Arsenal
Notes
Marah and Kapri are most likely a homage to, and female versions of Bulk and Skull, since they serve as comic relief throughout the season.

In spite of her role in the series, "Eye of the Storm" shows she is afraid of being laughed at by others.

Katrina Devine also played Cassidy Cornell in Power Rangers: Dino Thunder. During the crossover episode, both characters met, and commented on their similarities (though both insisted that they were the better looking one).
Marah's relationship with Dustin is similar to Scorpina's with Adam. Unlike Scorpina however, Marah admits she does like Dustin.
Marah might have had a divided heart, but her mind supported her uncle, until she saw how terrible her uncle was, when he left her and her sister Kapri on the ship, to be destroyed.
Appearances
See Also