A Savage Water Barbaric Machine Beast sent to kidnap people. It can spin ballpens, as part of the Gaiark's plan to power a machine to destroy the world. The Go-onger disguised to lure him. His signature move is "Grind Manhole", shooting out manholes at his enemies. He was eventually destroyed by Engine-Oh G9. Was used for "Manhole Bot" in Power Rangers RPM.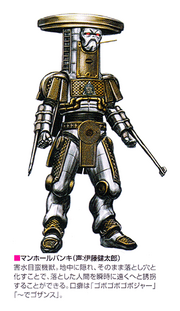 See Also
Ad blocker interference detected!
Wikia is a free-to-use site that makes money from advertising. We have a modified experience for viewers using ad blockers

Wikia is not accessible if you've made further modifications. Remove the custom ad blocker rule(s) and the page will load as expected.