Magnet Ninja Jishakkumo (磁石忍者ジシャックモ, Jishakunin Jishakkumo, 2): A magnet-themed Chunin, he was sent to use his Ninpou to control the magnetic forces in people. But the Hurricanegers scrapped him with the Triplet Gadget. Jishakkumo was recreated by the Copy Giant, only to be the first opponent of Karakuri Giant Senpuujin's Sword Slasher, which negated his regeneration ability.
Character History
to be added
Personality
to be added
Powers and Abilities
Arsenal
Behind the Scenes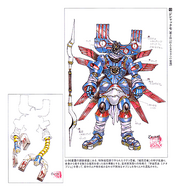 Portrayal
Notes
See Also
Ad blocker interference detected!
Wikia is a free-to-use site that makes money from advertising. We have a modified experience for viewers using ad blockers

Wikia is not accessible if you've made further modifications. Remove the custom ad blocker rule(s) and the page will load as expected.