MM Shuurisukii (メチャメチャシューリスキー, MechaMecha Shūrisukī?, 44)
Character History
Bowzock's best auto mechanic, who was looking for a magical wrench that could make the ultimate modifications to any object, which turned out to be owned by Yellow Racer. He managed to steal it, turn it wretched, and used it to adapt the vehicle it was using into the ultimate battle weapon for Reckless Dash Emperor Exhaus, with it. Yellow Racer eventually gained back the wrench and destroyed the battle vehicle. Killed by VRV Robo.
Personality
to be added
Modus and Arsenal
Notes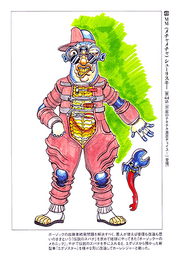 Portrayal
Behind the Scenes
See Also
References
Ad blocker interference detected!
Wikia is a free-to-use site that makes money from advertising. We have a modified experience for viewers using ad blockers

Wikia is not accessible if you've made further modifications. Remove the custom ad blocker rule(s) and the page will load as expected.