Loupe Shadow (ルーペシャドー, Rūpe Shadō?) is a Shadow Monster that appears in Episode 13 of Ressha Sentai ToQger.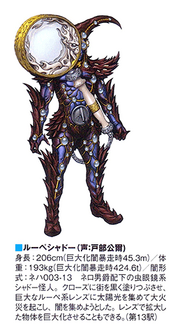 Character History
A Shadow Creep with a habit to say "By the Way" in his sentences. Armed with the Magnifying Glass Lens (ルーペ系レンズ Rūpe-kei Renzu) that allows him to fire energy beams and enlarge objects, Loupe Shadow intended to use his primary ability to set a city on fire once it is painted black to maximize the damage. However, as Right found the Fire Ressha and uses it to save the city, ToQ 3gou, ToQ 2gou, and ToQ 4gou defeat Loupe Shadow before he is destroyed by Diesel-Oh Fire.
Character History
Notes
ID Number: Ne Ha 003-13
Station Building: N/A
Motif: Loupe
Height: 206 cm (45.3m: giant)
Weight: 193 kg (424.6t: giant)
Behind the scenes
Portrayal
Ad blocker interference detected!
Wikia is a free-to-use site that makes money from advertising. We have a modified experience for viewers using ad blockers

Wikia is not accessible if you've made further modifications. Remove the custom ad blocker rule(s) and the page will load as expected.