| | |
| --- | --- |
| | This article is about a/an series of comics set in the Power Rangers comic sub-franchise by Boom! Studios. |
Power Rangers began in 2016 when Boom! Studios acquired the license after Hamilton Comics, Image Comics, Marvel Comics and Papercutz. Starting of as a modernized telling of the goings on in the middle of adventures set in Mighty Morphin Power Rangers, the series soon evolved into its own universe and mythology, while remaining firmly grounded in its MMPR roots.
Series
Mighty Morphin Power Rangers
Set in the timeframe after Tommy joined the team as the Green Ranger. This series initially focuses on Rita's attempted conquest of Earth, but then shifts to a battle with an evil Ranger from the World of the Coinless. It also sheds new light on what it turns out to have been Zordon's original Rangers.
Mighty Morphin Power Rangers Pink
Set in the timeframe after Kim had left the team for some time, 'Pink' finds Kimberly fending off family drama AND a monster attack, powerless and on her own, until some old friends show up to help. This spin-off series covers the events that occur after A Different Shade of Pink, which was Kimberly's departure episode. Kimberly's family history is also delved into as well.
Go Go Power Rangers
Set in the timeframe after the first five Mighty Morphin Rangers received their powers, the series also delves into the Rangers' intepersonal relationships.
Annuals
See 2016 Annual, 2017 Annual and 2018 Annual.
The annuals tell short stories that supplement the storylines in the other series, such as anecdote, side adventures and even origin stories.
Power Rangers: Aftershock
Announced by Lionsgate and Boom Studios in December 2016, this graphic novel, despite not being part of the universe of previous comics, is a continuation of the 2017 film.
Justice League/Power Rangers
At the 2016 New York Comic Con, DC Comics and Boom! Studios announced that they would be doing a six issue mini-series crossover between the Justice League and Mighty Morphin' Power Rangers. The publishers began releasing issues starting in January of 2017 and concluded the crossover in September of 2017.
Storylines
Shattered Grid
Lord Drakkon has escaped Grace Sterling when Saba's attempt on his life fails. He then powers up with the help of Ninjor who thinks him an ally. Jen Scotts travels to the present time and universe of the Mighty Morphin Power Rangers to prevent temporal aberrations that are happening across universes. The timeline has also fractured to protect the Morphin Grid and has separated each Ranger team's timelines and aligned them so they are all concurrent but in different worlds. Because of this the Rangers must stand together to defeat Lord Drakkon. The legacy of the Rangers is at stake.
Backup Features
Mighty Morphin Power Rangers comics feature backup features featuring duos in the Power Rangers universe.
The Ongoing Adventures of Bulk and Skull
to be added
The Ongoing Adventures of Squatt and Baboo
to be added
The Ongoing Adventures of Blue Senturion and Ninjor
to be added
Covers
Across the different series, the Power Rangers comics have a collectible aspect to them, with covers matching those from either the same series or different series.
Helmet Variants
by Goñi Montes, these were helmet tributes to each Ranger that then expanded to other variations with other items as well. These are the most easily recognized covers of the variant series.
Zord Incentive Variants
by Goñi Montes
Villain Incentive Variants
by various artists
Action Figure Incentive Variants
by various artists
Exceed Zord and Ranger variants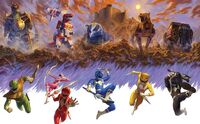 These Zord and Ranger variants, minus the Megazord, come together to form one big poster.
Ultimate Comics Megazord variants
Dimension X variants
Splash Connecting Covers
by Felipe Smith

Retro variants
These covers illustrate key moments in Power Rangers history.
Morphin Variants
by Goñi Montes
Connecting Covers
by Steve Morris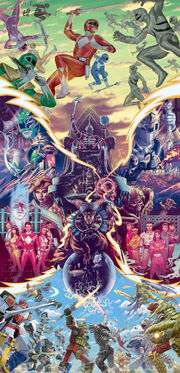 Morpher Covers
by Miguel Mercado
FOC
by Julian Totino Tedesco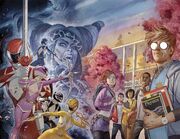 X-men Tribute Cover
by Dan Mora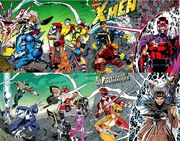 Justice League teamup covers
Versus Variant
by Dan Mora
All Rangers
by Carlos Villa and Joana LaFuente
Gold Foil variants
Bright Variants
by Miguel Mercado
Locker Variants
by Michelle Wong
Homage Variants
by Natacha Bustos
Paper Dolls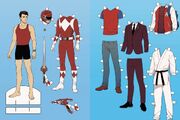 by Audrey Mok
Retro (Go Go)
by Audrey Mok
Notes
to be added
Pages in this Category
Subcategories
This category has the following 11 subcategories, out of 11 total.
Pages in category "Power Rangers (Boom! Studios)"
The following 142 pages are in this category, out of 142 total.
A

B

C

D

E

F

G

J

J cont.

K

L

M

M cont.

N

P

R

S

T

V

Z