LinerBoy
Talk

0
9,865pages on
this wiki
"Express Armament! LinerBoy!"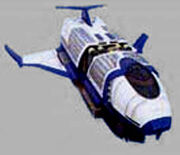 Max Liner (マックスライナー, Makkusu Rainā?)/Max Shuttle (マックスシャトル, Makkusu Shatoru?)/LinerBoy (ライナーボーイ, Rainā Bōi?): Created by Mondo Tatsumi with some assistance from Kyoko Hayase. It had an A.I. unit, which allowed it to fight without a pilot. By the command "Emergency Launch!" (緊急発進!, Kinkyū Hasshin!?), Max Shuttle can haul the GoLiners that were loaded with the Mars Machines up to space. When the command "Express Armament!" (特急武装!, Tokkyū Busō!?) is given, Max Liner's front wheel assemblies become the arms, the rear section becomes the legs, the nose becomes the back (revealing the head), the fender becomes the weapon, and the solar paneled side becomes the anterior.
LinerBoy was primarily powered by a series of solar panels built into its body, allowing it to remain active as long as it was exposed to sunlight. The unfortunate downside to this was the fact LinerBoy would rapidly lose power when deprived of sunlight, to the point of being rendered nonfunctional.
LinerBoy could also combine with the Victory Robo to become the Max Victory Robo, where it forms the helmet, chest armor, gauntlets, waist armor, and leg armor. Attacks with Blaster Shield (ブラスターシールド, Burasutā Shīrudo?) and Liner Kick (ライナーキック, Rainā Kikku?).
Although LinerBoy's body was damaged in the finale by the Grand Witch Grandiene-possessed Dark King Zylpheeza and Salamandes Dragon, the A.I. unit was able to survive the destruction.
Max Victory Robo
See also: Lightspeed Solarzord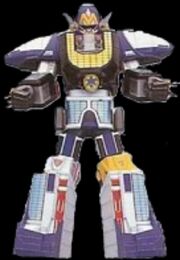 "356, V! Max Fusion! Max Victory Robo!"
Max Victory Robo (マックスビクトリーロボ, Makkusu Bikutorī Robo?): When the Victory Robo combines with the Max Shuttle it creates the Max Victory Robo with the command "3-5-6, V! Max Formation!" (マックスフォーメーション!, Makkusu Fōmēshon!?). Armaments provided from Liner Boy are jets stored with the feet that provide additional maneuverability, and the MaxGun which are two small wrist guns. Another ability the Max Victory Robo has is an array of solar panels where its Max Nova Absorption enables it to absorb power from sunlight or certain energy blasts and it's finisher Max Nova Barrage is where it unleashes it's rail-gun style weapon the Max Nova Cannons and combines the firepower from all of the Max Victory Robo's guns. In the finale the Max Victory Robo was rendered useless when Matoi Tatsumi moved it in the way of a blast shot by Destruction God Zylpheeza II and Destruction God Salamandes Dragon to protect a flammable building with Daimon Tatsumi and Matsuri Tatsumi who were rescuing a bunch of innocent children inside and Matoi barely survived the explosion.
See also