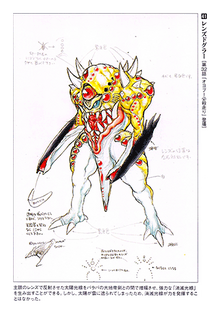 Lens Doggler (レンズドグラー, Renzudogurā, 32): Baraba uses the monster's lens with his Royal Underground Sword to produce an Extinction Light. The lens ends up in Kenta's possession and Oyobu takes it back. While the sun is blocked, Lens Doggler is blasted by the Jet Cannon and then destroyed by Great Five.
Ad blocker interference detected!
Wikia is a free-to-use site that makes money from advertising. We have a modified experience for viewers using ad blockers

Wikia is not accessible if you've made further modifications. Remove the custom ad blocker rule(s) and the page will load as expected.