"Worst vacation ever!"

―Leisure's final worlds before her death
Leisure is a summer-themed monster who was sealed thousands of years ago by Koda's grandfather. She is the twin sister of Loafer.
Character History
to be added
Personality
Compared to her brother, Leisure is much more aggressive in nature. After being released, she quickly attacks the rangers in anger as payback for being imprisoned.
Arsenal
She can send a special beam of sunlight which turns the environment sunny and makes humans lazy.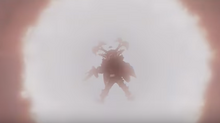 Behind the Scenes
Portrayal
Notes
In Kyoryuger, Loafer is actually the main villain, whereas Leisure, is actually a clone of him, instead of a sister.
On the Surfboards on her back, bare the words 'Deboth Gun Team Canderrilla'
Leisure's Ice Cream Arm: Triple Scoop Twist attack as performed by its ice cream cone drill arm is a reference to the Triple Drill Attack performed by Super Mega Silver's Q-Rex Megazord in Power Rangers Super Megaforce. Ironically it was performed on the Plesio Zord which, like the Q-Rex Megazord, has three different forms (flying vehicle, dinosaurid form, and Megazord).
Leisure and Loafer are the second Neo-Saban Era Power Ranger monsters who used a same Sentai monster. The first was Glytcher and Gremlin who used Waraikozou of the Gremlin from Goseiger.
She is one of the few villains in Power Rangers Dino Super Charge who is explicitly not one of Sledge's Outlaws.
See Also
References