Arsenal (Maskman)
Talk

0
8,976pages on
this wiki
Category page | Redirected from Laser Magnum
This page lists all the weapons, devices, and vehicles used by the Maskmen. Below is the inventory, which also reflects on the Maskman series page as well as the team page of the Maskmen.
Transformation Devices
Masking Brace
The Maskmen's transformation device. They call out "Aura Power!" to transform while Ryo calls out "Change Power!" and doesn't need a Masking Brace.
Sidearms
Laser Magnum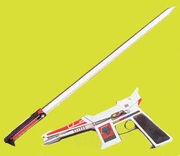 Laser Magnums (レーザーマグナム, Rēzā Magunamu) are the standard sidearms of the Maskmen.

Individual Weapons
Masky Blade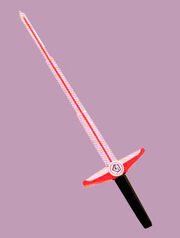 Masky Blade (マスキーブレード, Masukī Burēdo): Red Mask's personal weapon.

Masky Rod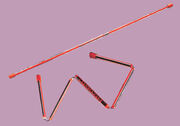 Masky Rod (マスキーロッド, Masukī Roddo): Black Mask's personal weapon. It is actually a three-section staff, and can split apart.

Masky Tonfas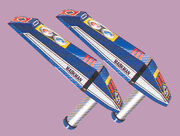 Masky Tonfas (マスキートンファー, Masukī Tonfā): Blue Mask's personal weapon.

Masky Rotor

Masky Rotor (マスキーローター, Masukī Rōtā): Yellow Mask's personal weapon. It acts as both a heavy-projectile top and yoyo.

Masky Ribbon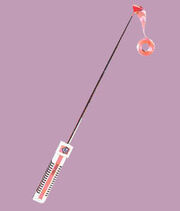 Masky Ribbon (マスキーリボン, Masukī Ribon): Pink Mask's personal weapon.

X1 Mask's weapons
X1 Mask arsenal was different than the main Maskman team. His weaponry is not named and it is also not explained that how much Ryo's powers can extend being a prototype.
Though a prototype, but X1 Mask suit is powerful enough to block special attacks of beasts like Magma Doggler, and throw the attack back to its source. Though when Ryo really did throw Magma Doggler's attack back to him, the process resulted in loss of X1 Mask powers.

Team Cannon
Shot Bomber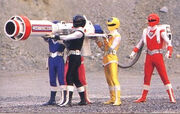 Shot Bomber (ショットボンバー, Shotto Bonbā) - The team's first finishing cannon, with Mask Red donning a backpack. Destroyed by Kiros and Beam Doggler in Episode 27.
Jet Cannon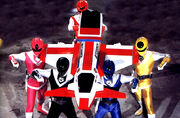 Jet Cannon (ジェットカノン, Jetto Kanon) - The team's second finishing cannon, built to replace the Shot Bomber. It can double as a flight rider for Red Mask.

Vehicles
Spin Cruiser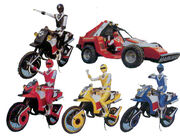 Spin Cruiser (スピンクルーザー, Supin Kurūzā): A buggy that was based from the planned designs of the Sugata Super F1 racecar. It is driven by Red Mask and fires the Spin Magnum.
Mask Roaders
Mask Roaders (マスクローダー, Masuku Rōdā): Motorcycles for Black, Blue, Yellow and Pink.
Inventory
Transformation Devices
Sidearms
Individual Weapons
Team Cannons
Vehicles
This category currently contains no pages or media.