"I'm sorry, Rangers, but we simply do not have enough information to proceed."
This article is a stub, meaning it needs more info. You can improve this RangerWiki article by expanding it.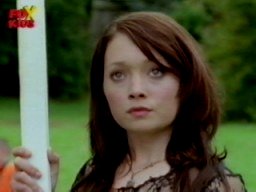 Krista is an environmentalist. As her hobby states, she really cares for the environment, including a 1000-year-old tree, which was a target for Zeltrax. The Passion of Connor
She went to Reefside 2004 prom with Conner at the end. Thunder Struck
She is played by Antonia Prebble, who would later star as Clare in Mystic Force.