Daigo Kiryu
Talk

0
8,832pages on
this wiki

"Hear our roar! The Fanged Brave, Kyoryu Red!"
"It's going to get wild, try and stop me!"
Daigo Kiryu (桐生 ダイゴ, Kiryū Daigo), nicknamed King (キング, Kingu), is Kyoryu Red (キョウリュウレッド, Kyōryū Reddo), the Red Ranger of the Kyoryugers.
Biography
Early life
When he was a little boy, Daigo traveled with his father around the world. One day, his father gave him a pendant of a dinosaur tooth/claw within some amber, which he said will guide him into becoming a "strong man" in the future.
Brave 1: Let's Go! The Bright Red King
During an expedition, his father gave him money and a map, giving him the choice to go back to Japan and live a normal life; or "follow the path of the great dragons" and continue exploring the world. Daigo chose to live the life his father had. After that, his father disappeared. Brave 3: Get Rough! The Slashing Brave
Defeating Gabutyra and becoming Kyoryu Red
After the
Deboss Army
reawakened and attacked an Island in the South Sea, Daigo (now 20 years old and known by his nickname "King") was the first on the scene to fight back.
Torin
noticed this, and went to his aid by giving him a
Gabrevolver
and awakening
Gabutyra
from his slumber on the volcano. Noticing his braveness in the fight, Torin grants him the opportunity to become Kyoryu Red, should Gabutyra accept him after being defeated in battle.
Brave 1: Let's Go! The Bright Red King
Daigo fought with Gabutyra for one month before he was able to defeat the dinosaur in combat. However, Gabutyra did not want to accept him, so Torin decided to look elsewhere for a new candidate to become Kyoryu Red. Daigo, unwilling to be left behind, grabbed Torin before he teleported and wound up in the Tiger Boy Family Restaurant, the front for the Kyoryuger base.
When the Deboss Army unleashes Debo Hyogakki, the Debo Monster that killed the dinosaurs, Gabutyra becomes enraged and goes after him despite not having his Beast Battery installed. Knowing this could end up being fatal for Gabutyra, Daigo goes to his aid to protect him. Filled with gratitude, Gabutyra grants him the power of the Kyoryuger and King becomes the Fanged Hero (牙の勇者, Kiba no Yūsha) Kyoryu Red. Brave 1: Let's Go! The Bright Red King
Super Hero Taisen Z
The Kyoryugers joined the action as the current Sentai team in Kamen Rider × Super Sentai × Space Sheriff: Super Hero Taisen Z.
Super Hero Taisen Otsu
to be added Kamen Rider × Super Sentai × Space Sheriff: Super Hero Taisen Otsu: Heroo! Answers
Kyoryu Red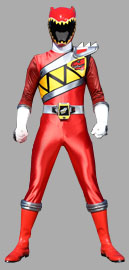 Arsenal
Gabrevolver: Transformation device that doubles as the gun weapon.
Gabricalibur: Main sword weapon that can combine with the Gabrevolver.

Gaburu Cannon: The combined form of the Gabrevolver and GabriCalibur.

MoBuckle: Beast Battery storing belt and communicator.
Beast Battery #1 - Gabutyra: Main battery-like device that is the source of Daigo's powers.
Gabutyra Fang
Mecha
Personality
An easy going, strong, and very optimistic person, Daigo is surprisingly insightful, knowing how strong people are (like when he sees Amy and warns Ian that she is stronger than she looks) or can be (such as Nobuharu hindering himself), as well as figuring out why Gabutyra didn't accept him as a Kyoryuger initially.
When he was declared something by others, he tends to repeat it back with a "super" (i.e., Torin saying Gabutyra is serious, Hyogakki calling him insane) added to it. Daigo never tries to solve difficult problems with his head, instead he just relies on gut instinct to win. 
Behind the scenes
Portrayal
Daigo Kiryu is portrayed by Ryo Ryusei (竜星 涼, Ryūsei Ryō?).[1][2][3][4] As a child, he is portrayed by Itsuki Shibuya (渋谷 樹生, Shibuya Itsuki?). As Kyoryu Red, his suit actor is Yoshifumi Oshikawa (押川 善文, Oshikawa Yoshifumi?).
Sentai Notes
References