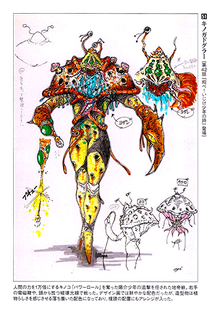 Kinoga Doggler (キノガドグラー, Kinogadogurā?, 42): This mushroom monster is sent after a boy named Yousuke because he stole Tube's supply of Power Rolls, which are mushrooms that magnify the ingester's physical abilities a thousandfold for a period of time. Sunlight destroys the Power Rolls, and the monster was blasted by the Jet Cannon and destroyed by Galaxy Robo.
Notes
His name is based on the japanese word "Kinoko", which means "mushroom"
Ad blocker interference detected!
Wikia is a free-to-use site that makes money from advertising. We have a modified experience for viewers using ad blockers

Wikia is not accessible if you've made further modifications. Remove the custom ad blocker rule(s) and the page will load as expected.