King Bibi (キングビービ, Kingu Bībi?) is a main villain in Come Back! Tensou Sentai Goseiger: Last Epic - The Gosei Angels are National Icons!?
Character History
King Bibi is a Bibi Bug that survived destruction and evolved into a humanoid form. He enters the body of Yumeko Hoshino in order to execute a master pan that would destroy the Goseigers and everything they stood for in order to avenge his kind while feeding on the darkness in human hearts. However, King Bibi's plan fails and he is destroyed soon after by Ground Gosei Great.
Notes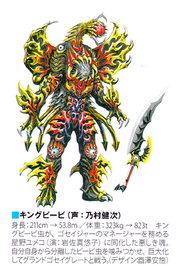 Height: 211 cm (53.8 m: giant)
Weight: 323 kg (823 t: giant)
Ad blocker interference detected!
Wikia is a free-to-use site that makes money from advertising. We have a modified experience for viewers using ad blockers

Wikia is not accessible if you've made further modifications. Remove the custom ad blocker rule(s) and the page will load as expected.