"Finally, Giga Bragigas' seal has been undone! However, Jinarik comes back to life! He sends Giga Bragigas to wreak havoc on the city!"
King 9: I'll show you! The Largest Combination of the Strongest! (보여주마! 최강 최대의 합체!, Boyeojuma! Choegang Choedaeui Habche!?) is the ninth episode of Power Rangers Dino Force Brave. It features the debut of the Gigant BrachioKing and the final appearances of Weihab and Jinarik.
Synopsis
Plot
Cast
Korean cast
Japanese voice actors
Notes
In Japanese dub, the episode was renamed to I'll Show You! The Strongest and Largest Combination (

見せてやる!最強最大の合体

Miseteyaru! Saikyō Saidai no Gattai

).
DVD release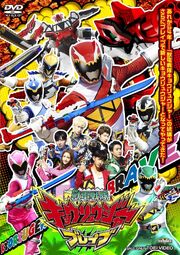 The complete Zyuden Sentai Kyoryuger Brave series was released on DVD in Japan on July 12th, 2017.[1]

References