description to be added
Character History
An oddball hard-to-catch Gorma. He spent most of his time rolling about on rollerblades, choosing children and stealing their souls to give life to his bloodthirsty dolls. Killed by the Dairangers. He was brought back by Duke of Trumps to fight the Dairangers and then absorbed by him to become Great King Ojaru.
Personality
to be added
Modus and Arsenal
Notes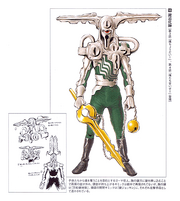 Portrayal
Behind the Scenes
See also
References
Ad blocker interference detected!
Wikia is a free-to-use site that makes money from advertising. We have a modified experience for viewers using ad blockers

Wikia is not accessible if you've made further modifications. Remove the custom ad blocker rule(s) and the page will load as expected.