"I'm sorry, Rangers, but we simply do not have enough information to proceed."
This article is a stub, meaning it needs more info. You can improve this RangerWiki article by expanding it.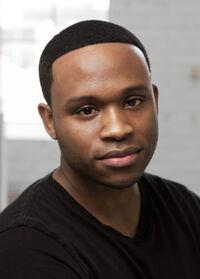 Kevin Duhaney (born June 2, 1984 in Whitby, Ontario) is a Canadian actor and rapper. He is best known for his portrayal of Blue Dino Ranger Ethan James in Power Rangers Dino Thunder. He would reprise the role in two episodes of the succeeding season , Power Rangers SPD, titled "History" and "Wormhole", where Ethan and his teammates teamed with the SPD Rangers.
Prior to "History", Kevin along with Emma Lahana appeared in the special "Before it Began" as Ethan and Kira Ford. Archive footage of Kevin as Ethan was used in the other special "Return of the Ranger".