Kaizoku Sentai Gokaiger: Let's Go Gokai Galleon
Talk

0
Share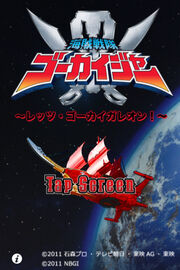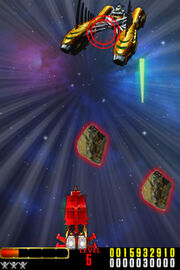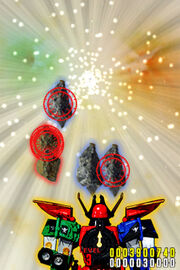 Kaizoku Sentai Gokaiger: Let's Go Gokai Galleon is an iOS game primarily designed for the iPhone and iTouch. It is a third person shooter that allows the user to control the Gokai Galleon or GokaiOh to destroy a series of oncoming obstacles as well as enemy Zangyack ships.
It is free and available for download in Japanese.
Instructions and Controls
Lock on to enemies on the screen by tapping them. You can lock on to multiple enemies at the same time. Next, flick the screen to attack all the enemies you are locked on to simultaneousl.!
Tilt the device left and right to dodge enemy attacks.
Multiply your score locking on to multiple enemies and defeating them all at once.
Pirate marks pile up on the lower left side of the screen, according to the number of enemies defeated at once. Once you have eight marks, you can transform into Gokaioh.
You are invincible while transformed, giving you the opportunity to boost your score even more!
Ad blocker interference detected!
Wikia is a free-to-use site that makes money from advertising. We have a modified experience for viewers using ad blockers

Wikia is not accessible if you've made further modifications. Remove the custom ad blocker rule(s) and the page will load as expected.