Kagaku Sentai Dynaman: The Movie was released at the Toei Manga Matsuri film festival on March 12, 1983.
Synopsis
The Dynaman must prevent a powerful new gun invented by a friend of Doctor Yumeno from falling into the hands of the Jashinka.
Plot
Characters
Dynamen
Allies
Notes
The film originally aired between episode 5 and 6 where it fits without conflict; it most likely occurs prior to episode 8 when Princess Chimera joins the Jashinka court.
This episode has the notability of being the only movie in Sentai history to air as a Sentai episode in the same series; it is also the first movie that is "letterboxed" for its film airing, originally being filmed in 4:3 as is typical of a TV episode with the top and bottom of the screen chopped for film release.
DVD/Blu-ray releases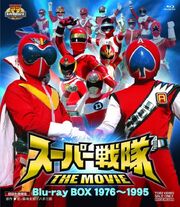 Kagaku Sentai Dynaman: The Movie is included on Super Sentai: The Movie Blu-ray Box 1976-1995, a blu-ray compilation box set of 15 theatrical Super Sentai movies.[2]

References
Ad blocker interference detected!
Wikia is a free-to-use site that makes money from advertising. We have a modified experience for viewers using ad blockers

Wikia is not accessible if you've made further modifications. Remove the custom ad blocker rule(s) and the page will load as expected.