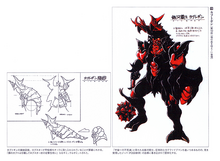 Kabutogin (カブトギン, Kabutogin) (10) is the beetle-theme Silver Imperial Army Monster of the Silver Imperial Army Zone
Character History
Kabutogin is created by Doldora to be her invincible warrior to fight against Fiveman; but he finds further difficulty due to the arrival of Rei Zooba, a knight from planet Romano (the first planet destroyed by Zone) who came to Earth to take down Doldora. With great difficulty, both Zooba and Fiveman try to deal with Doldora and Kabutogin until Zooba uses a timebomb within himself as a final measure to blow up Kabutogin's armor after realizing with Fumiya's help that his desires for revenge were blinding him in combat. With the armor weakened, Fiveman uses their Brother Attack to defeat the Galactic Warrior; after Doldora uses Gorlin #09 to fight as a giant Kabutogin, it is defeated by FiveRobo with Fumiya controlling the mecha.
Personality
to be added
Arsenal
With a knight-like appearance, Kabutogin's most powerful attribute is his armor and shield, constructed by Doldora to make him invincible in combat. He also uses a morning star as a weapon.
Behind the Scenes
Portrayal
Notes
References
Ad blocker interference detected!
Wikia is a free-to-use site that makes money from advertising. We have a modified experience for viewers using ad blockers

Wikia is not accessible if you've made further modifications. Remove the custom ad blocker rule(s) and the page will load as expected.